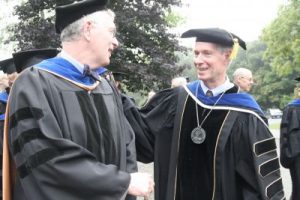 Students, faculty, staff, alumni, trustees, and friends from near and far gathered on September 13, 2015, for the inauguration of Kevin Quigley as Marlboro College's ninth president. A drizzly day could not dampen spirits as the college community reveled in the celebration of Marlboro and it's promising future under the guidance of President Kevin.
"I am delighted that all my roads brought me to Marlboro, to travel down a new road and begin a new journey," said Kevin in his inaugural address. "During my first few months here, I've learned that the Marlboro community is a collection of remarkably dedicated individuals who are committed to the college's purpose of helping students have a self-directed, rigorous academic experience rooted in community values and shape a life that matters."
Honored guests at the ceremony included delegates from 13 other colleges and universities, including President Mariko Silver of Bennington College, President Paul Fonteyn of Green Mountain College, and President Peter Eden of Landmark College. They also included three former presidents of Marlboro College, Tom Ragle, Paul LeBlanc, and Ellen McCulloch-Lovell, as well as Geoffrey Hendricks, the son of college founder Walter Hendricks.
The ceremony opened with greetings from four community members, each representing their constituencies: Logan Davis '17, head selectperson; Julie Richardson, assistant dean; Kate Ratcliff, professor of American studies and gender studies; and alumna and trustee Gretchen Holbrook Gerzina '72. Keynote remarks were offered by: Ginny Kirkwood, owner and director of the Shawnee Group; Alexander Shakow, international adviser and consultant; Philip Weinstein, Alexander Griswold Cummins Professor Emeritus of English at Swarthmore College; and Ellen McCulloch-Lovell.
The ceremony followed on a full weekend of events, including a "Day of Connection and Service" on Friday, when community members participated in projects near and far. Saturday offered a teach-in on international service titled "Marlboro in the World," a visiting guests' reception at the president's home, a community dinner, and a performance of Senegalese drumming and dancing. See a full summary, including transcripts, video, and photos from the formal ceremony.