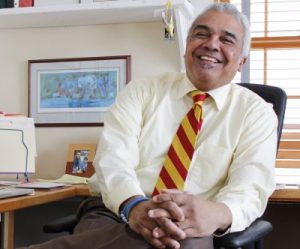 "Marlboro College parallels many of my values and beliefs in higher education," said Luis Rosa, who joined the college in January as dean of students. "The level of access students have is important to me, and Marlboro is the right size for this. Although the college maintains a rigorous curriculum, there is a great effort to ensure a broad range of access to students."
Luis has 15 years of experience in student affairs leadership and administration, most recently as dean of community life at Antioch College in Yellow Springs, Ohio. Before that he worked as assistant dean of campus life at Willamette University in Salem, Oregon, and director of health and counseling services at Western Oregon University. He has 20 years of experience providing direct mental health services, both in academic and community settings, and has a M.Ed. in counseling.
"The role of dean of students requires an individual with both a macro and a micro lens," said Luis. "I believe my previous work as a mental health clinician prepared me to be effective in more intimate interventions, and my work and training as a student affairs administrator has prepared me well to look at systems, understand the complexities of organizations, and plan for longer term goals and objectives."
Luis comes to Marlboro with a wealth of practical experience and training in relevant areas, including mental health, health education, student life, multiculturalism and diversity, title IX and sexual misconduct, and student retention. Most importantly, Luis brings a style of leadership that is democratic and participatory, in keeping with Marlboro's longstanding ideals.
"We are thrilled to have someone of Luis's stature lead the student life team," said Marlboro President Kevin Quigley. "His deep understanding of the role of his staff in the health, development, retention, and success of students at Marlboro will bring the campus experience to a new level of inclusion and mutual respect."