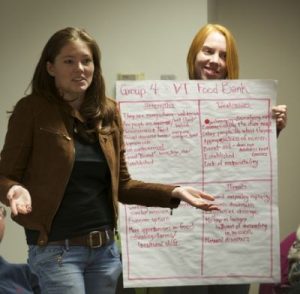 At recent graduation exercises, 41 students in our Brattleboro and Barre cohorts received their Nonprofit Management Certificates from Marlboro College Graduate and Professional Studies.
To earn their certificates, students completed the 72-hour, 10-week series of all-day Friday workshops. The program helps nonprofit leaders gain and refine the essential skills needed to strengthen their organizations and achieve their missions. Topics covered in the course included: Leadership, Marketing, Budgeting, Grants and Earned Income, Donor Fundraising, Strategic Planning, and Personal Leadership Development.
The Brattleboro graduation ceremony was held at the Brattleboro Museum & Art Center. Donovan Arthen, executive director of PeaceJam New England, and Audrey McLaughlin, senior development officer at Marlboro College, were elected by their peers in the course to speak at the ceremony.
The Barre cohort had their graduation ceremony at the Vermont History Center. This beautiful space was made available by cohort member Marc Hudson, program director at the Vermont History Center. Leah Hollenberger, vice president of marketing, development & community relations at Copley Hospital, was elected by her peers to be their speaker.