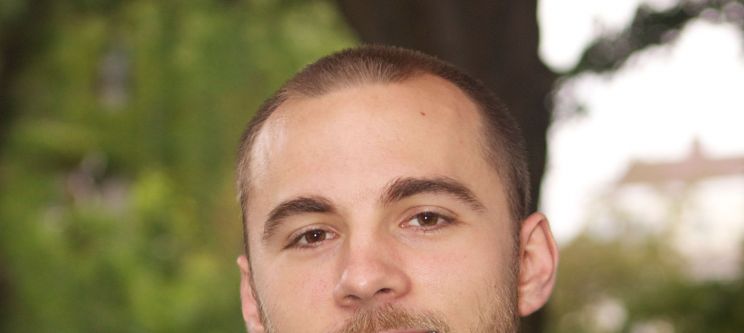 When Adam Keller graduated in 2010, his Plan of Concentration was in American studies and media studies, he had acquired skills in audio production and photography that could be immediately applied in related professions. Two years later, he is a full time audio producer for Strategic Media, an advertising agency in Portland, Maine. As if that is not enough, in the evenings Adam is house photographer for the State Theatre, a historic venue where he documents all of their concerts.
"What I like most about both jobs is that I'm able to use my ears and listen to music and people and I get to pick out little vignettes of life, or capture brief moments and represent that in both sonically and in my photographs," said Adam. "And of course I get to see a bunch of great music."
At Strategic Media, Adam helps create ads for national radio campaigns. Working from scripts that the company's copywriters have written, it's Adam's job to understand the tone that copywriter and client is aiming for and to convey that through audio. He auditions and casts voice talents and records all the necessary parts needed, then edits them to the final produced ad you might hear on your radio.
"Sometimes it's difficult to understand exactly what a client wants a spot to sound like and how to achieve that specific tone," said Adam. "Usually there's a meeting of the minds and we test out different ideas for spots and see which resonates best with the listeners. There have been quite a few times I've been surprised by choices."
Both of Adam's jobs tie into the work he was doing at Marlboro, where his Plan looked at how technology and mass communication have shaped the nature of community and public discourse. The audio producing is also directly related to Marlboro's WDTR Dead Tree Radio station that Adam started with Ken Schneck, dean of students. He gained experience in photography studying with John Willis, photography professor, and through a work-study position at the college.
"I was lucky enough at Marlboro to find faculty that really were interested in the audio and radio world and allowed me to build an area where I could immerse myself in material related to audio. It created a situation where I was able to try out some of the things I had been reading about, some of which ended up being great and some failed miserably, and that was okay. I was also lucky enough to receive a number of grants from Marlboro to get internships in the field, which helped immensely with my Plan."
OTHER GRADUATES WORKING IN MEDIA
David Asman '77 Anchor, Fox Business Network & Fox News Channel
Sean Cole '93 American Public Media host
Colin Nickerson '76, Boston Globe, science writer, former Europe bureau chief