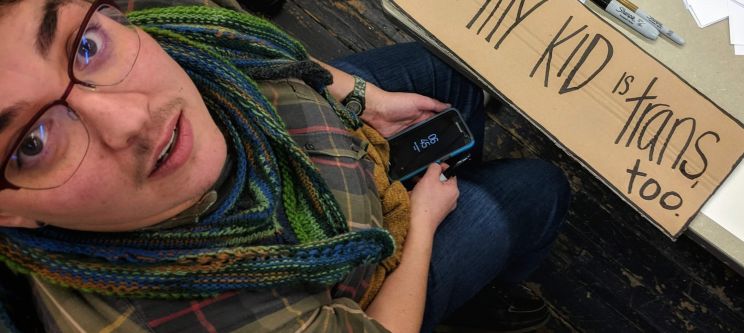 "Most of us don't want to think about our relationship to money, because we are taught and raised to believe that capitalism is the air we breathe," says Alex Fischer MBA '14, founder of Open Bookkeeping and co-founder of The Root Social Justice Center, both in Brattleboro, Vermont. "I got into bookkeeping because I wanted to help support economies that are alternatives to capitalism."
When Alex moved to Vermont from California and started Open Bookkeeping, they quickly realized that they wanted to use finance to work with businesses and alternative economies based on justice-oriented values and principles. For Alex, getting their MBA was about helping justice-based businesses, co-ops, nonprofits, and individuals thrive.
"My Marlboro MBA really gave me time to figure out this bizarre place I live and work in: the intersection of finance and social justice," says Alex. "Spending two and a half years learning about and challenging notions of success and traditional business metrics allowed me to better understand my foundational values and perspectives."
Alex helped co-found The Root in 2013, with the goal to create a co-working space for justice-based businesses and community organizing. As of 2017 The Root focuses on racial justice organizing in Vermont and the region led by people of color, and Alex has continued to fundraise and maintain finances for the organization as a way to support people-of-color leadership.
"Justice-based economies are made up of an ecosystem of organizations, businesses, co-ops, individuals—we need them to be resilient, successful and values-based, but we also need them to keep their doors open and pay their employees, worker-owners, contractors, and other parties."