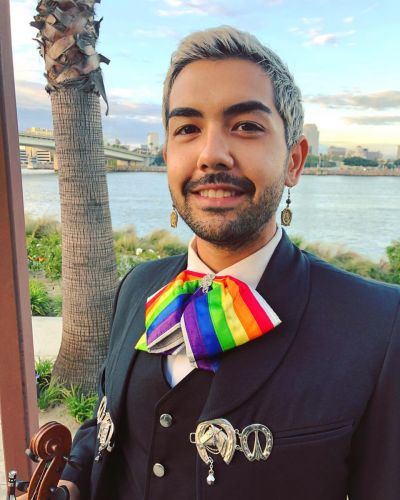 Making Mariachi and LGBTQ history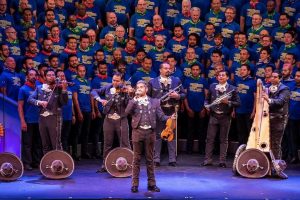 When Allen Magaña graduated with a Plan of Concentration in music and languages, focusing on the musical practices in the Franciscan missions in the late 18th and early 19th centuries, he had little idea he was headed for Mariachi stardom. Now with a Master's degree in Latin American and Iberian Studies from University of California Santa Barbara, Allen is also a featured singer and violinist in Mariachi Arcoiris de Los Angeles, the world's first and only LGBTQ Mariachi.
"We are a dynamic ensemble representing the rich cultural traditions of Mexico," said Allen. "Mariachi Arcoiris was created as a safe haven for mariachi musicians who identify as LGBTQ to come together and perform traditional Mexican regional music in an otherwise machista mariachi world."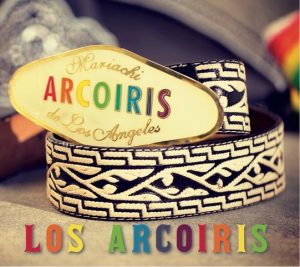 Allen says the unique ensemble performs its repertoire to represent the LGBTQ community while maintaining the highest level of musicality. Mariachi Acoiris has been featured in LA Weekly, La Opinión, Telemundo, Univision, NPR, ABC, The Los Angeles Times, and Billboard, among other outlets. Their first album, Los Arcoiris, is available on their website: https://www.mariachiarcoiris.com.
Meanwhile, Allen's thesis project at UCSB focused on the development of LGBTI social movements in Portugal in in the last decade, further supporting his Mariachi activism.
"I specifically focus on how issues of race and economic austerity intersect and affect the dynamics and development of queer social movements. I examine how immigration from Brazil has influenced conceptions of sexuality in Portugal, and how recent political crises have challenged traditional conceptions of nation, gender, and sexuality."