Marlboro College is pleased to announce the recipient of the second annual Roots Award is Allison Turner MS '99, who has been teaching laboratory and field techniques in the natural sciences at the college since 2006. The Roots Award, which recognizes an alumna or alumnus who has been outstanding in their service and commitment to the college, was bestowed upon Allison during Home Days alumni weekend on Saturday, September 28, along with a "dragon egg" handcrafted by Jeff Bower '92 (see below).
"We are so grateful to Allison for all that she has contributed to the Marlboro campus and alumni community over the years," said Maia Segura '91, director of alumni engagement. "In a learning community where civic engagement and responsibility are part of the culture, Allison provides a model for the rest of us."
"I am really delighted with this award," said Allison. "Most of us go through life doing our best, and really trying to make a difference, but we don't always get recognized for it. I highly recommend that everyone find someone to recognize for their contributions, even if it's just to say thank you for some small but specific detail. Those thank-yous can make all the difference."
Allison grew up on the Marlboro campus, where her father was the forestry professor Buck Turner and her mother Katharine "Tinky" Turner '58 was an alumna, and she has many fond memories from this period. "I had a really terrific childhood, with excellent parents, plus nearby homes and the Marlboro campus and forest to play and learn in. My father was one of the best people I have ever known, and I still love to hear new stories about him—both how great a teacher he was, and the frequent irreverent story—from long-ago alums."
Allison received her bachelor's degree in environmental science from University of California, Berkeley, then arranged to pursue her master's in biochemistry and pharmacognosy at Marlboro so she could teach at another college. She went on to get her PhD in pharmacognosy at University of Illinois, where her dissertation examined the constituents of cranberry juice and its activity against urinary tract infections. Allison came back to teach at Marlboro in 2004, while biology professor Jenny Ramstetter was on sabbatical, then was offered her current position a couple years later.
"Marlboro students are spectacular and inspiring, and we learn a lot from each other," she said. "The research that we do in class is fun and informative: I encourage students to invent and complete projects that add to the greater scientific body of knowledge, and they don't disappoint me. I'm also a strong supporter of community governance, and appreciate the many other ways there are to get involved beyond just classes."
The Roots Award recognizes Allison's many contributions to campus over the years, from supporting students in their moments of inspiration to teaching science through entertaining social media factoids. She often advocates for the college itself and took on a critical grassroots role in the success of last spring's Sugar Rush annual fund appeal.
Allison also makes it a priority to advocate for food justice among college community members. She ensures that the "free food shelf" is always stocked, to help students who might suffer from food insecurity. "Ensuring that this is not such an issue for our community is probably one of my more important contributions, even if it isn't in my job description."
---
Dragon Egg Reflects Gratitude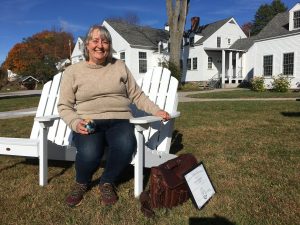 Along with her Roots Award, Allison was given a dragon egg handcrafted by Jeff Bower '92 from ash, box elder, and resin, a token of the gratitude the college community has for Allison's work and dedication. The egg has a core of ash, which in Heathen tradition is a very potent tree: the World Tree is said to be ash, ash wood is used for the making of runes, and the Goddess Frigg's Box of Blessings is also made from ash, according to Trey Wentworth '07. The egg also includes box elder, which was used by the Anasazi in the making of the oldest-known wood flutes in the Americas. According to Jeff, "Crafting dragon eggs (and their close relatives, 'galaxy seeds') is always an intention-led process, so knowing that Allison would be the recipient for this was very inspiring."