Class of 1990 and MAT Class of 2016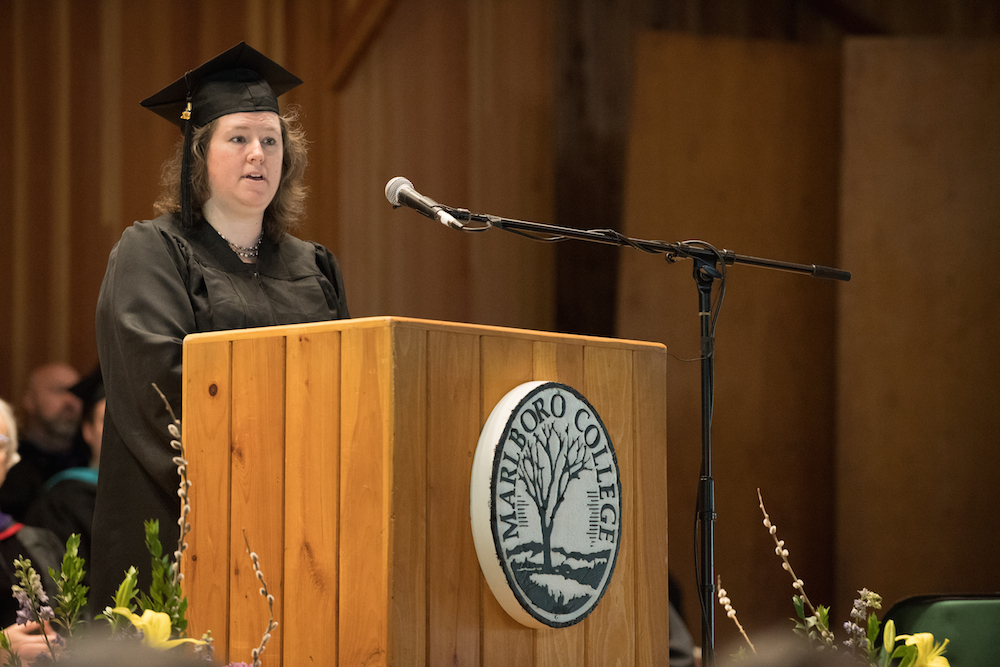 Hello, my name is Heidi Doyle and I'm honored to be the student speaker from the Graduate and Professional Studies Campus. As a librarian, I spend my days telling stories and today I want to share my Marlboro story with you.
I began my Marlboro experience in 1990 as an undergraduate in the program here on Potash Hill. I labored through three semesters of the clear writing requirement and then dove into my Plan of Concentration. My Bachelor of Arts degree in theater and psychology focused on the way in which theater affects the self-esteem of students. I spent many nights in the library, pouring over Jungian psychology or Bruno Bettelheim's work on fairy tales, and more than once I fell asleep in those comfy library chairs.
When I graduated in 1994, I began working at the college in the library as an interlibrary loan librarian. Through this position, I discovered that I loved helping people find their passions, so I pursued a Master of Library and Information Science degree. In 2001, I decided it was time to put all of these various educational components together, so I found work as a school librarian in Hillsboro, New Hampshire. Teaching and reading to students, which combined all of my education, became the perfect career. After 13 years however, I was beginning to feel like I needed a greater challenge, so I took a position as a librarian and technology integrator in Sunapee, New Hampshire.
I was confident in my abilities as a librarian, but I was worried that I might be out of my depth as a tech integrator, so I started looking at various graduate programs. On one of the Marlboro alumni Facebook pages, I learned that the graduate campus was offering a scholarship for undergraduate alumni and they offered a Master's in Teaching with Technology. I decided that it was time for me to give the graduate center a try and I enrolled.
Now, there is something that you must understand before I go further. I was working at the college when the graduate center was first proposed and created. There was a general sense of frustration amongst many people here on the hill. Resources were funneled into this project and it felt as if the graduate center was the prodigal son while the undergraduate campus was the red-headed step-child. It seemed as if the then-president and some of the administrators of the graduate center really didn't understand the essence of the Marlboro education, or worse, they understood it, but didn't care about it. As one of the librarians on the hill, I had to help maintain the graduate campus library collection as well. Imagine my shock and dismay when I discovered that the grad center wasn't going to use the Dewey Decimal System, but rather the Library of Congress system! It was as if they just had to be different from everything that was happening on the hill.
However, my first residency weekend had me experiencing Deja vu! The discussions that took place, the rigor of the work and the self-pacing that were required seemed strangely familiar…where, oh, where had this happened before? The course work was welcoming and frustrating at the same time. People were coming in with various backgrounds, ideology, and strong opinions. The professors participated in the discussions like one of the students. The lunches were healthy, delicious and served in a buffet style. What, what! I was beginning to have a sneaking suspicion that the undergraduate and the graduate campuses valued the same things in the students, faculty, and staff, and that perhaps all my earlier assumptions were wrong. It was solidified in my brain when I saw that Clear Writing was a required course!
Steve Jobs said: Your work is going to fill a large part of your life, and the only way to be truly satisfied is to do what you believe is great work. And the only way to do great work is to love what you do. If you haven't found it yet, keep looking. Don't settle. As with all matters of the heart, you'll know when you find it.
I have been lucky enough to find my passion by becoming a librarian, but it had begun to fade. Libraries around the country are facing difficulties as they struggle to find ways to stay relevant. I myself felt like I was fighting to make others see the relevance in strong library programs and it felt like a losing battle. Libraries and librarians need to become more than information specialists, we need to be leaders, motivators, and innovators. Through my course work at Marlboro, I began to see that I was transforming from an ordinary librarian to an extraordinary educator. I took my library and transformed it into a Makerspace.
Makerspaces are places in which people come together to create using high-tech and low-tech tools. They are places where people can discover their passions and share them with others. On a daily basis, my library has students coming in to find book resources, use computers and iPads, and create with various Makerspace tools. Talk about a change from my days studying and working in the quiet library here! I might have ten kids noisily creating wondrous objects with cardboard, while five others use 3-D pens, and five more learn about circuits. My library is vibrant and relevant, and my career is reinvigorated. Twenty plus years ago, Marlboro taught me to think for myself, how to dig deeper and how to accept difficult challenges. Today, I know how to prosper in the face of change because Marlboro taught me how to find my passion and how to illuminate pathways for others.
Whether you are from the undergraduate campus here on the hill or from the graduate campus all the way down there in Brattleboro, I feel we are all part of one Marlboro. We strived to achieve goals that were personal, professional, and even global. We are the creators, the makers, and the doers. We worked hard to produce a Plan or a Capstone that would inform the world about our passions and teach ourselves at the same time. We all can be proud today, with the knowledge that we have had an educational experience that will serve us well in the world, one that will serve the greater good, our own prosperity, and allow us to be true to ourselves. My wish for all of you is to find that work that you love and do it. I have been lucky enough to find mine and, thanks to Marlboro, my ability to do what I love has been enhanced a hundredfold.