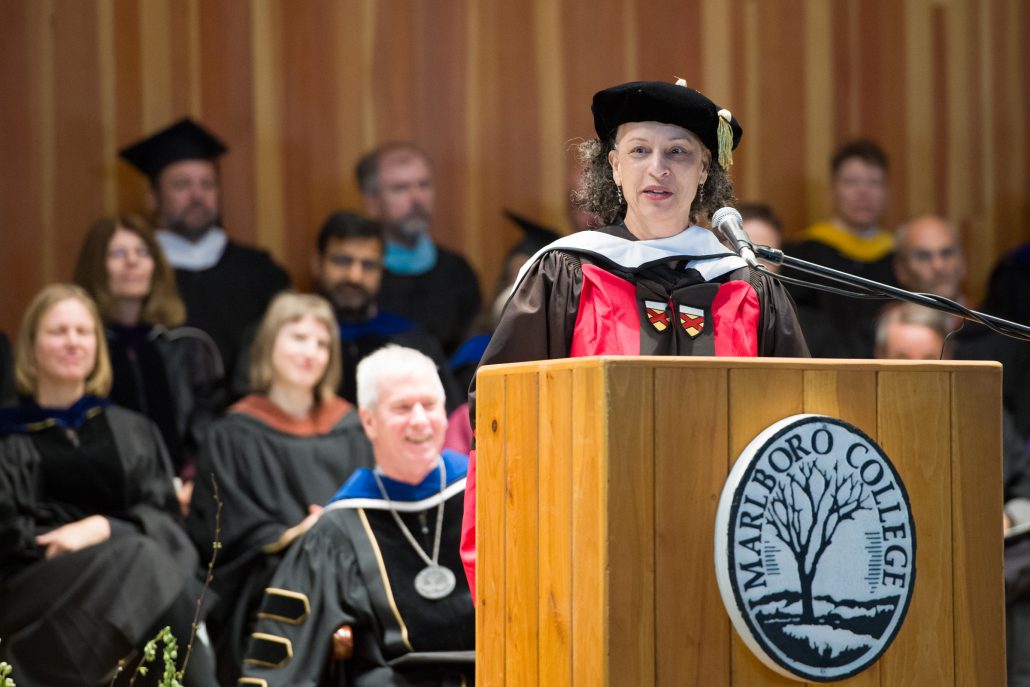 On this wonderful day in this most beautiful of places, a place that made so many of us what we are today, I've come to talk about worry. Not the sort of worry that drives the push behind denying migrants access to our country, but the sort of fear that drives the biggest decisions we make about the future of education and the life of the mind.
I worry about the future of culture and the arts and the humanities. As you may have heard, those things are in great jeopardy these days. The already miniscule funding for the National Endowment for the Arts and the National Endowment for the Humanities barely survived the recent national budget proposal, and surely will be in their sights again in the near future. For families and students, much of this worry comes from the very real fear of not being able to support oneself, or to have a decent life; absolutely legitimate concerns. Much of this stems from the turning point when a college education began to be conflated with professional development, and with job training. There is no doubt that times have changed since I was a student at Marlboro. People are right to worry. At the same time, somehow this has become a fear of the arts and humanities themselves, as being subversive and not serving the greater need of production and society, as being somehow peripheral to them.
As a university dean, and a professor, I have watched this trend with alarm for several years. Enrollments in humanities classes have been plummeting. Three years ago, at the Ivy League college where I worked, we learned that only 9 percent of the students applying for admissions to the college indicated that they hoped to major in the humanities.
Let me say that again: 9 percent.
Recently I was reading a memoir by Hanif Kureishi, the British author and filmmaker of such works as The Buddha of Suburbia. He was looking through his late father's fictional writings about growing up in India and Pakistan, and thinking about his own development as an artist in London. This paragraph near the end jumped out at me. He writes,
A few years ago I was asked to speak to a group of business students about the point of culture. They and I were looking at one another with some bewilderment when someone said, 'Do we really need art?' I thought of the suburbs and the misuse of art and culture as social differentiation—snobbery—and of their association with pretentiousness and showing off…. Yet this was not the norm. Most people participate in some kind of communal art: they dance, sing, play instruments, take photographs, garden, tell stories. Almost everything we do has some aesthetic dimension. People prefer beauty to ugliness. However, culture and sensual abandon can seem like close associates. As religious fundamentalists know, art and the body are inextricable. Culture attacks all certainties, and cultural deprivation is a form of deliberate poverty.
"Culture attacks all certainties." That is precisely what we need to remember and celebrate today. And it is exactly what Marlboro allows its students to do. Whether your interests lie in the laboratory or the music studio, in the natural world and its future or the sacred, in this very special place you have learned, and will take with you, the best of what has been created. And you, and the world, will be better for it.