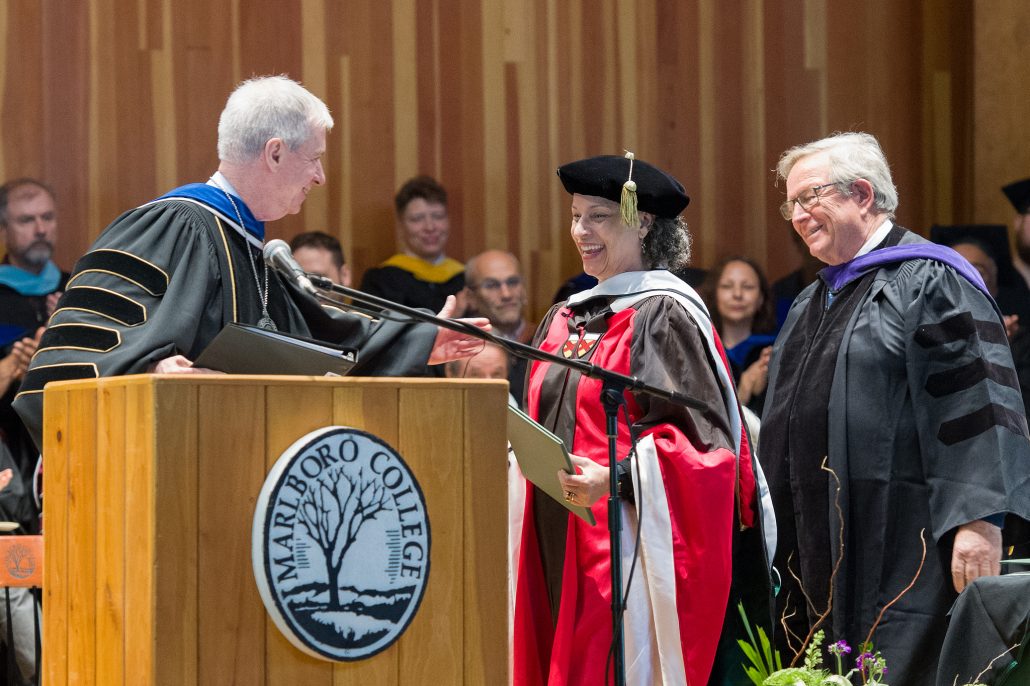 As a distinguished biographer and scholar of literature, you have inspired a generation of students in prestigious colleges both here in the United States and in England.
You first became familiar with Marlboro College through longtime American Studies professor Dick Judd, whose house you visited each summer as a teenager after rooming with his daughter Suvie at summer camp. When it was time to go to college you thought Marlboro was too small, but after a year at Syracuse University you changed your mind. You said, "I knew that I had come home."
You graduated from Marlboro in 1972, with a Plan of Concentration on Dickens, and also left the college with your future husband and fellow graduate Anthony Gerzina. After receiving an M.A. from Simmons College you earned your Ph.D. from Stanford University, where your dissertation on painter Dora Carrington led to your first celebrated biography.
You have shared your unique perspective on literature and biography at colleges here and abroad, including Dartmouth College, where you were the first African American woman to chair an Ivy League English department. Most recently you find yourself close by, at the University of Massachusetts–Amherst, where you are dean of the Commonwealth Honors College.
Your latest of several books, Mr. and Mrs. Prince, tells the remarkable story of former slaves who moved to Vermont as landowners in the 18th century. You recently served as chair of the Pulitzer jury for biography and autobiography and were just elected to the American Academy of Arts and Sciences.
Despite your busy academic career, you also served as a valuable trustee of Marlboro from 2010 to 2016. You have said, "Here, students could think deeply, engage with each other and with the world, and go forth with the confidence that comes from individual achievement amidst a community of thinkers within this microcosm of the wider world."
Your commitment to higher education and scholarly research epitomize the loftiest values of the liberal arts. Gretchen Holbrook Gerzina, for your life of academic service in keeping with the ideals of Marlboro College, it is our pleasure to confer upon you the degree: Doctor of Humane Letters.