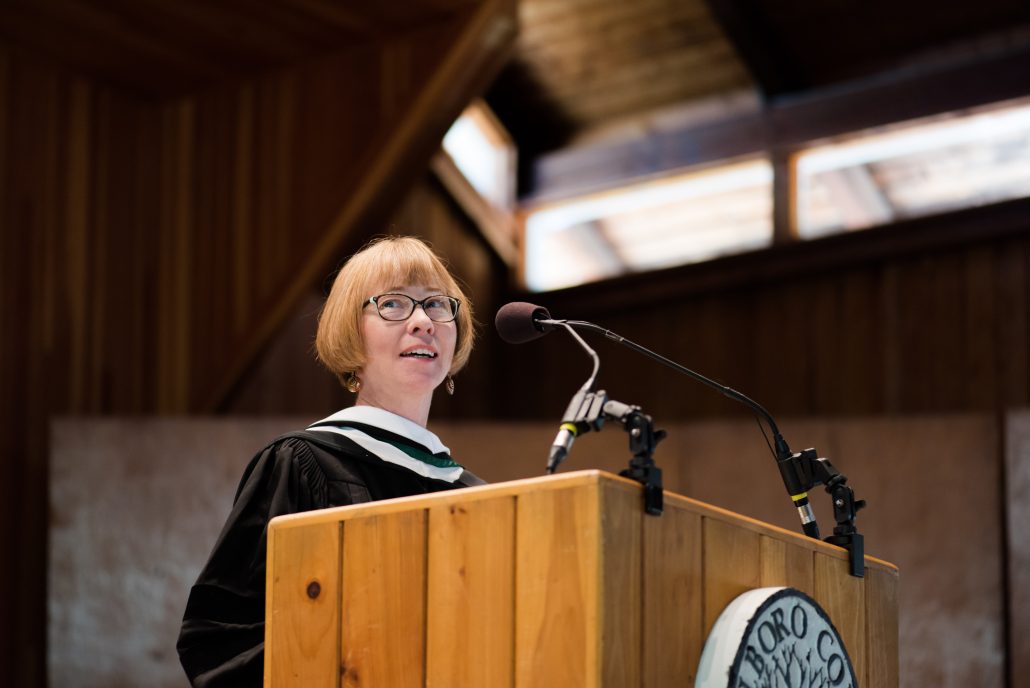 I am truly honored and humbled to accept this honorary doctoral degree from Marlboro College – a place that is so very special to me. And I am honored to share this occasion with the graduating class of 2018.
As an alumna of the college, I value the academic rigor, the dedication of the faculty and the rich experiences gained through a Marlboro education. Being here I feel so at home. And today, three decades later, I look at the list of projects and plans in this year's graduating class, I see that the Marlboro that I knew and loved, lives on, and it gives me great hope for our future.
I first came to Marlboro in the summer of 1985 at my mother's insistence to check out the new World Studies Program. I had gone to a very large suburban public high school where I was one of 725 students in my graduating class, so I was really thinking about a bigger college further away from home—certainly not a tiny Vermont college that most of my friends and family had never heard of. As we drove through the center of the town of Marlboro, which we passed in a flash, I thought to myself: "there is NO way I am going here."
But I did, I took a chance and it changed my life. And somehow you made it here too. If you wanted a school with a big football team or fancy facilities or fraternities and sororities, you would have gone somewhere else. Like me, you chose this small progressive liberal arts school where classes are held in converted farmhouses, students, staff and faculty gather and eat together in the dining hall, and where broomball is a competitive sport.
At Marlboro l found passionate students and committed faculty and staff committed to rigorous academic and community life—I found my tribe. My experiences at Marlboro shaped me and gave me the values, tools and confidence to navigate the world beyond Potash Hill.
For 25 years I have been working the intersection of community building and art-making. I have made a career advocating for artists, connecting the dots, bringing people together and giving a voice to people and issues that often exist in the margins. I have had the privilege of working with some exceptional people and produce some powerful projects. It hasn't always been easy, but it has been deeply rewarding, and a way that I have endeavored to make a positive contribution in this world.
So as I look out at the graduates here today, you and your family have made sacrifices, and you've worked hard to reach this pinnacle—you've lost lots of sleep, you've taken out loans, you had your orals and you survived Plan. And, I want to assure you of one thing—it was worth it.
With the conferring of your degree today, you hold a very special key—a key that unlocks new doors. Your Marlboro education positions you for possibilities and your future. And it connects you to a network of alumni—like-minded folks who share your experience—so branch out and connect to them. And, as you branch out I encourage you to be bold. Because now, more than ever we need community-minded innovators and creative thinkers and active citizens like you to participate and make your imprint on the world. Because of you I have great hope, and I'm excited for your journey ahead.