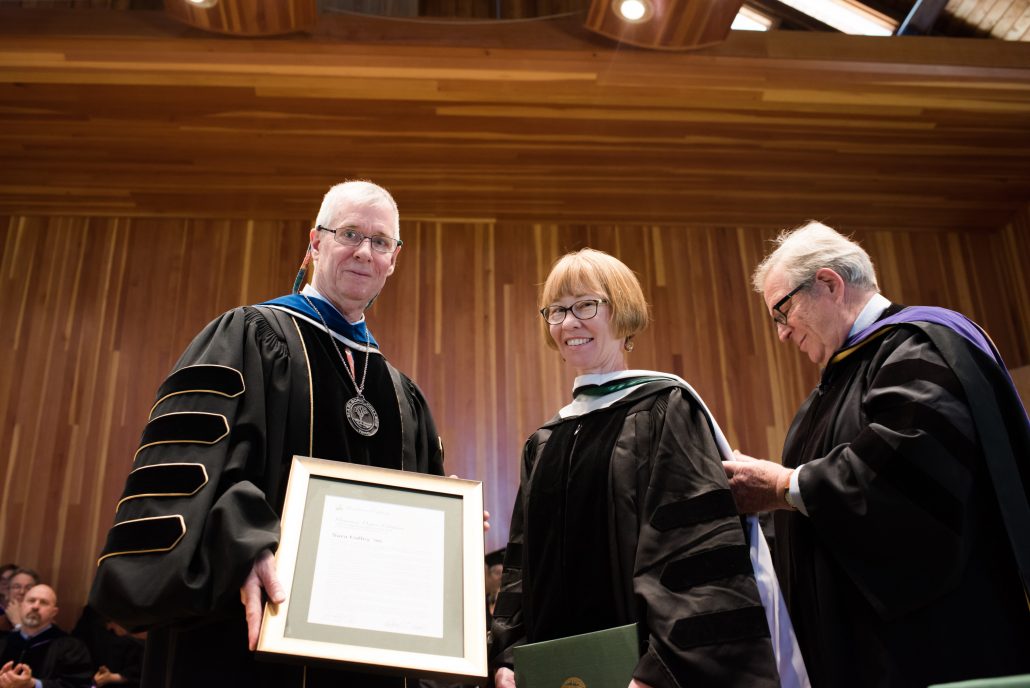 As a supporter of performing arts in the region and of the college, you have pioneered exciting ways to cultivate new works, new audiences, and new partnerships between artists and the community that strengthen both.
You first came to Vermont to attend Marlboro College, where you were one of the first students in the new World Studies Program and graduated with a Plan of Concentration on the anthropology of dance and tourism in Bali.
After 15 years of working in the non-profit cultural sector in New York City, you returned to Vermont and founded Vermont Performance Lab, a "performance incubator" combining your passion for supporting new work with your passion for the well-being of communities.
Steve Procter, your colleague and friend, has said, "VPL is a large creative experiment, and Sara's artistry as the orchestrator and choreographer of previously unimagined relationships between artists and rural communities is unsurpassed."
You have been an active volunteer in your community, serving on several school associations and boards, including the Governor's Institutes of Vermont, as co-chair of the New England Foundation for the Arts' Advisory Council and president of the Broad Brook Community Center.
As a trustee of Marlboro College for 13 years and ever since, you have been a valuable partner for integrating ground-breaking performing arts into the college curriculum. Examples include two courses that explored local history from multiple perspectives, including performance studies, as well as many workshops and performances by VPL artists-in-residence.
You have said, "I see the role of artists as being a mirror to our society. Artists can be catalysts for change, and it's important that we keep those voices and support those voices in our communities."
Your commitment to the arts, interdisciplinary collaboration, and civic engagement personify the loftiest values of the liberal arts. Sara Coffey, for your life of service in keeping with the ideals of Marlboro College, it is our pleasure to confer upon you the degree: Doctor of Humane Letters.