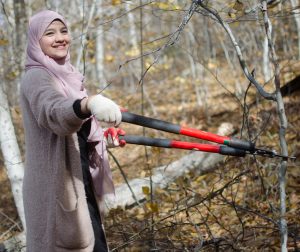 "Community service forms a very important part of life at Marlboro, and I'm very glad to be a part of it this year," said Lamia Barakat, Marlboro's Fulbright Arabic language fellow for the 2018-2019 academic year. She was invited to share her perspective on community service at Marlboro at a Fulbright conference in Washington, D.C, December 5 through 9, 2018.
In a video to be presented at the conference, Lamia describes painting a local ski hut, gardening on campus, doing trail work, and maintaining the climbing wall alongside students and other community members. She also interviews President Kevin, who shares his perspective on the history of community service at Marlboro.
Lamia comes from Egypt to Marlboro as part of the Fulbright Foreign Language Teaching Assistant (FLTA) program, sponsored by the United States Department of State Bureau of Educational and Cultural Affairs. The program is designed to develop Americans' knowledge of foreign cultures and languages by supporting teaching assistantships in over 30 languages at hundreds of U.S. institutions of higher education.
The FLTA program offers educators from more than 50 countries the opportunity to develop their professional skills and gain first-hand knowledge of the U.S., its culture, and its people. Lamia will be sharing her experiences and achievements at Marlboro with these international educators in Washington this weekend.
"I love the flexibility of the place, and how every student is getting a special attention from teachers. It's truly a wonderful experience," said Lamia, speaking about Marlboro. "There is always a solution for every problem I face. People are so anxious to help and give support all the time."