Grants from the endowment of the Jerome I. Aron Fund supported the research efforts of four students and their Plan sponsors this year. The endowment was created in 2004 in memory of Marlboro's dear friend and trustee, Jerry Aron, to promote collaboration between students and faculty.
Building sustainable pottery in Puerto Rico
Three students and an alumna accompanied ceramics professor Roberto Lugo on a research trip to Utuado, Puerto Rico, last May, to develop plans for a community-based pottery workshop. This was the first of many trips to the region, with the intention of developing an art studio that would both benefit the local community and provide a study-abroad artist-in-residence program for future Marlboro students and other artists.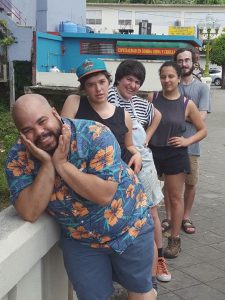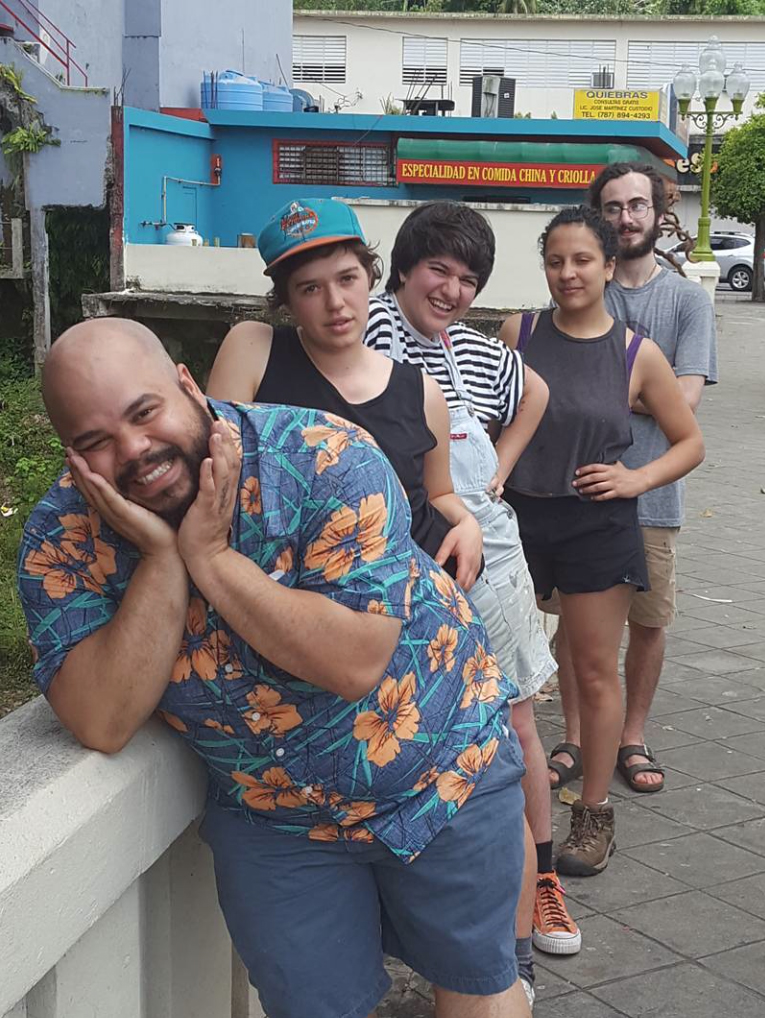 "Utuado has a rich culinary history, and its forested hillsides are an abundant source of rich, red clay," said Rob (pictured right with students in Puerto Rico), who has family in the region but had never been to Puerto Rico before this trip. "Using the local clay will be a very economical way to establish the residency program and also develop a revenue stream for the local economy through an artisanal pottery program. I hope that we can develop functional uses for the clay and an aesthetic and identity for Puerto Rican ceramics."
Together the group researched and visited natural clay deposits, and brought back samples of the clay to experiment with mixtures that will lead to the most functional material. They also made connections with community arts leaders in Utuado and nearby communities, including a group in Adjuntas called Casa Pueblo, in an effort to find partners and spaces that would be helpful in establishing a workshop.
"As a group we were able to see, with some transparency, what the situation is like down there and what people might need in order to access a space like the one Rob is trying to create," said Bella Ortiz-Wren, a junior studying ceramics…. Bella grew up in Puerto Rico, and visits family there regularly, but this was a unique opportunity to see the island with fresh eyes. "I think this was a really important step towards envisioning the community space."
"This field research was great preparation for setting up a community pottery space of my own some day," said Sarah Palacios, a senior with a Plan in ceramics focusing on food and culture. "I don't want to just do pottery by myself, as much as have a positive effect on the community."
Mapping Byzantine geography
Junior Emma Holtsinger and history professor Adam Franklin-Lyons are part of a larger collaborative research project with scholars at Wesleyan University, combining primary sources from the Middle Ages with geographic information system (GIS) technology. Calling their project "Traveler's Lab," together these colleagues are pioneering new methods in social network analysis that will transfer to each of their individual research programs as well as contribute to their classroom practices.
"This project has given me the opportunity to apply my classical background to a more involved, practical context, while developing my understanding and skill across several disciplines including computer technology and cartography," said Emma, a classics student focusing on Byzantine history. She is working with Jesse Torgerson, Wesleyan medieval studies professor, on a project using digital analytical tools to explore the geography evoked in the Byzantine Chronicle of Theophanes "the Confessor." "Working closely with sources allows me to gain a more cohesive understanding of the context for my future research."
"Collaborating with students is part of the mission of Traveler's Lab," said Adam, who is applying some of the same methods to his own research on couriers in late medieval Spain and Catalonia. "Rather than just being a minion collecting data for their professor, the goal is to introduce students to doing real work, where they can contribute their own ideas. When this is done right, it's really gratifying for all parties."
Adam also plans on integrating all of this collaborative work much more closely into his own teaching. He is co-teaching a related class in Cartography with math professor Matt Ollis this fall and continuing with a class in Digital History in the spring. "This course will bring my own research closer to the work of my students, as well as introduce them to this wider historical community interested in these same questions."