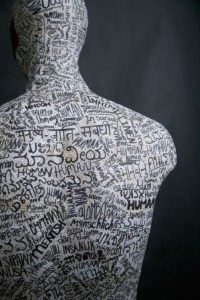 Marlboro College is pleased to announce the winners of the Beautiful Minds Challenge, a creative competition for high school students drawing applicants from across the country. The first place senior entry came from Brooke Evans, a senior at Cedar Creek School in Ruston, Louisiana, for her sculpture titled "Seeing Red."
"A human being can be a hero, a villain, and anything between," wrote Brooke. In response to this year's prompt, "Human being: being human, Capture truth," Brook constructed a mannequin covered with papier-mâché, with the word "human" translated into 90 different languages scrawled over every inch of it.
"In creating this project with pages of books and languages from around the globe, I characterize humanity as being imperfect—good, evil, and cast in a gray-scale, where no matter is simply black and white. I realized that like my project, I am made up of the good, the bad, and the ugly aspects of humanity."
Brooke's was chosen from a total of 84 entries from 110 students, coming from as far away as Kathmandu, Nepal, and as close to Marlboro College as Westminster, Vermont. These entries included sculptures, drawings, videos, photographs, musical compositions, and essays, each of them an original and creative way to approach the question of what makes us human.
"We are so impressed with the creativity of this year's submissions, and the thought that went into each one," said Kate Trzaskos, director of non-degree programs at Marlboro College. "The originality and interdisciplinary nature of the entries is representative of the kinds of students who do well at Marlboro, and indeed several Beautiful Minds Challenge finalists from past years are now attending the college."
The second place senior entry came from Ron Hertel, of Christ Church Episcopal School in Greenville, South Carolina. Titled "Vines for Veins," it is an intricate ceramic sculpture of a human heart with flower, vine, and beehive motifs suggesting the human's role in the balance of nature. The third place senior entry, a series of dollhouses symbolizing human qualities titled "Playing House," came from May Jane Schechter, of Brooklyn Prospect Charter School in Brooklyn, New York.
The top three contestants who are high school seniors are eligible for a full or partial scholarship to Marlboro College, and the top three who are underclassmen are eligible for cash prizes. A total of 25 finalists, including prize-winners and honorable mentions, will be offered an expense-paid trip to the Beautiful Minds Challenge Symposium at Marlboro College, March 30–April 3, 2016. The symposium will be an opportunity to share their submissions and ideas about humanity, and to learn about creative process and problem solving through activities with Marlboro students and faculty members.
"I really enjoyed meeting other students from around the country and the world," said a finalist who attended the Beautiful Minds Challenge Symposium last year. "Sharing our experiences was seriously inspirational. It was a very humbling experience, in the best way possible."