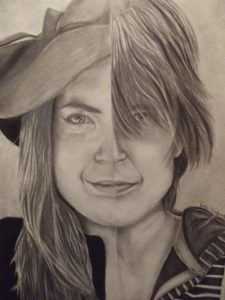 Marlboro College announced the winners of its Beautiful Minds Challenge, a contest for curious and creative high school students that drew 84 submissions from 13 U.S. states and South Korea. The top three entries will receive cash prizes, and 21 finalists will enjoy an all-expense-paid trip to a student symposium at Marlboro College in April.
"The high-school journey is one of self-growth, self-discovery, and revelation," said Erica Schneider of Brick, New Jersey, the first place winner in Marlboro's Beautiful Minds Challenge. In response to the prompt, "Take a road less traveled. Make something that shares your journey," Erica drew a self-portrait that depicted half of her as she was in ninth grade and the other half as she is today, accompanied by an eloquent essay about her process of self-discovery. "Although I've moved on from my ninth-grade self, it's still a part of me, and so, the two sides of my portrait are equal in size and detail," she wrote.
Now in its second year, the contest was designed to attract students who think broadly and creatively across disciplines. Students from as far away as California, Hawaii, and even South Korea responded to the contest with essays, artwork, videos, and audio recordings demonstrating an impressive range of creative expression. "All of the finalists demonstrate the independent, cross-disciplinary thinking characteristic of Marlboro students," said Ariel Brooks, director of non-degree programs at Marlboro.