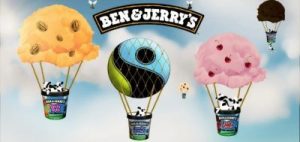 Vermont's premier ice cream manufacturer Ben & Jerry's is well known for its sustainability and social mission programs, but it has long sought accurate methods for measuring their impact. After several years of experimenting with alternative approaches, they have settled on a pilot of the MultiCapital Scorecard (MCS) method developed by Vermont-based Thomas & McElroy.
"The promise of the MCS at Ben & Jerry's is that it will make it possible to measure, manage, and report the performance of the company relative to thresholds-based sustainability standards of performance and to the company's own stakeholders and impacts," said Mark McElroy, Marlboro MBA faculty and co-founder of Thomas & McElroy. He presented the pilot case with Rob Michalak, Ben & Jerry's global director of social mission, at the New Metrics '14 conference at MIT this week, a meeting of business leaders exploring new approaches to valuing risk and impact.
"Unlike any other system for assessing the sustainability performance of a company, the MCS makes it possible to answer the questions all organizations should be asking of themselves" continues Mark, also founder and executive director of Center for Sustainable Organizations. "Are we sustainable across all aspects of the Triple Bottom Line? And in cases where not, how big are the gaps and what are we doing about them?" He points out that the concepts in MCS tie in very directly to the curriculum of Marlboro's MBA in Managing for Sustainability program.