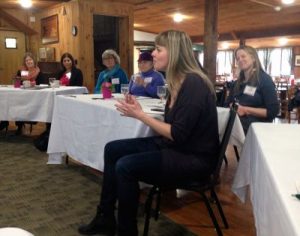 A program of Marlboro College's Center for New Leadership, Women's Leadership Circles (WLC) of Vermont have been providing training, tools, and support for women in leadership positions since 2011. In March they convened the first-ever statewide gathering drawing together women from WLCs around the state, made possible through the generous support of the law firm of Downs Rachlin Martin (DRM).
"They approached us to learn what Marlboro was doing, and to describe how their firm has stepped forward as a key partner for the advancement of women's leadership in Vermont," said Kate Jellema, director of the Center for New Leadership. "We are very pleased to be working with Downs Rachlin Martin on such an important issue."
"Downs Rachlin Martin's management team recognizes that diversity and inclusion are important to creating a sustainable innovative environment," said Veronica Williams, director of marketing and client development at DRM, one of the largest law firms in northern New England. "Supporting programs that nurture women leaders is just one way we demonstrate our commitment to diversity."
The WLC alumni event on March 10, held at the Lake Morey Resort in Fairlee, Vermont, attracted women leaders from across the state, including corporate executives, nonprofit directors, community activists, and business owners. They were addressed by Tiff Bluemle, director of Change the Story, who shared data on women's wages in the state of Vermont and inspired lively conversation about how to empower more women in Vermont.
Founded by Kerry Secrest of Watershed Coaching, WLC is a six-month program for women in the business, nonprofit, and government sectors who are interested in deepening their leadership. The program has been offered in counties across the state in collaboration with Marlboro College since 2014, and is now a signature program of the Center for New Leadership.