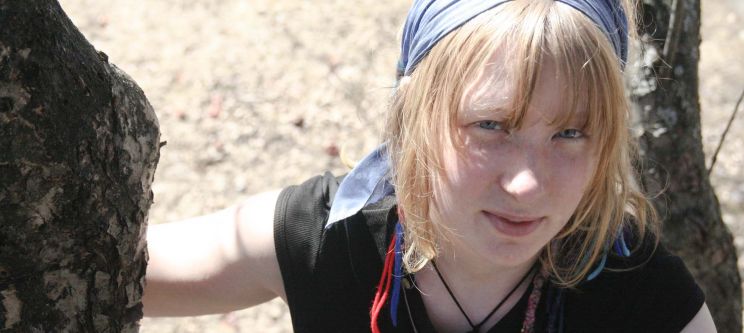 When World Studies Program student Chrissy Raudonis '11 did her Plan of Concentration on mining in Argentina, she gained an appreciation for how deeply social and environmental issues are interrelated. Now she is working in the Ixil region of Guatemala's western highlands, putting her knowledge into practice with victims of that country's civil war and continuing violence.
"For a long time I didn't know how my Plan was going to fit into what I would do after graduation, and then a volunteer from NISGUA, the Network for Solidarity with the People of Guatemala, visited campus," said Chrissy. "I was pretty excited because they do human accompaniment, where they go into communities and make sure there are no human rights abuses. It was important for me to have a firm understanding of these issues before working in the field."
Chrissy's work with NISGUA consists mostly of supporting and visiting with activists and witnesses who are seeking justice through court cases charging military commanders of genocide during the civil war, which stretched from the 1960s to the '90s. Some have been receiving accompaniers in their homes for years as members of the Association for Justice and Reconciliation (AJR), which has been active in the genocide case against former dictator Efraín Ríos Montt and his military high command. Other witnesses are involved in more recent cases.
"The visits that we make help to show that no matter how slow and drawn out the court processes may be, the AJR's fight for justice is important to the international community, and that the witnesses are not alone in their struggle. With these witnesses, a lot of my work is about checking up on people, keeping tabs on the health of their families, building and maintaining trust, providing moral support and learning about their daily lives."
Yet while the situation in many villages may appear tranquil, one of the most amazing realities Chrissy has found in the Ixil region is that former adversaries during the civil war continue to live side by side in the same communities. She finds that the lines between perpetrators and victims of crimes are often more blurry than she anticipated.
"Members of the community were frequently set against their own neighbors, or people from nearby communities. For example, one woman who I visit still lives in the same town as the man she believes 'disappeared' her niece. While members of the Self-Defense Civil Patrols were often trained and instructed to kill, rape and torture, many are also themselves victims or relatives of victims who suffered war crimes. The blurry lines and dual roles complicate what justice and reconciliation might end up looking like in practice."
"While the armed conflict is now over, conflicts have taken other forms for many Ixiles, who are faced with mounting pressure at home due to racism, militarization, and limited land and economic opportunities. My perspective on immigration in the United States has been greatly shaped by the people that I've met and the conversations that I've had over the past few months and I think it will continue to be reformed as I continue my work here. On the most basic level, I hope that each visit serves as a reminder of the support and interest of hundreds of people internationally."
Read the full post from Chrissy on The Communication Initiative Network.
---
OTHER GRADUATES WORKING IN THE NONPROFIT SECTOR
Noah Levinson '05, Founder, Calcutta Kids
Marta Willgoose '01, VP Communications Cerebral Palsy of New York, NYC
Pippa Arend '95, founder P:EAR (Program: Education, Art, Recreation) for homeless and transitional youth in Seattle