Philanthropy has always been critical to the success of Marlboro College, from its formative years, when gifts helped fund new buildings, to the present day, when gifts help to support the mentoring relationships that make our small college unique. The college is pleased to officially launch a suite of three societies that will recognize the important role of philanthropy in the long-term sustainability of Marlboro.
The President's Leadership Circle is a group of alumni, parents, and friends who give generously to Marlboro College each year, with a subsequently huge impact on the college community. In honor of the college's founding year, membership is based on cash contributions and matching gifts of $1,946 or more to the Annual Fund, capital projects, or the endowment within a given fiscal year. To show appreciation for this commitment to Marlboro's principles, President Kevin will invite members of the President's Leadership Circle to exclusive gatherings and recognize their generosity at events and in publications throughout the year.
President's Leadership Circle gift levels:
• Pioneer: $1,946–$9,999
• Sustainer: $10,000–$49,999
• Leader: $50,000 and up
Regular, yearly donations to the Marlboro College Annual Fund, of any size, are critical to the college's success. The Town Meeting Society recognizes those donors who have made a gift to the college every year for a minimum of five years, with a special gift and special recognition in our annual honor roll of donors. We count on these donors to be our steady supporters, year after year.
When you earmark a gift to Marlboro College in your estate, you become a member of the Potash Hill Society. There are many ways to remember Marlboro: through your will or a trust, or by naming the college as a beneficiary of your life insurance or retirement plan. Some arrangements even provide you an income for life, and subsequently benefit the college, and many options provide a current tax benefit.
harold grinspoon is one of marlboro's pioneers, having attended the college in its infancy, from 1948 to 1950. he is credited with installing the first coin-operated washing machine on campus, a portent of his future entrepreneurial spirit. he went on to found aspen square management, a successful real estate company in nearby western Massachusetts with properties across the country, but continues to remember his alma mater with generosity
"I loved going to school at Marlboro College," said Harold, a consistent member of the President's Leadership Circle. "It was an exciting, invigorating environment for creative people." He remembers enjoying hiking at Marlboro, and the mentorship of his favorite professor Phil Roddman, "a genius in the field of philosophy."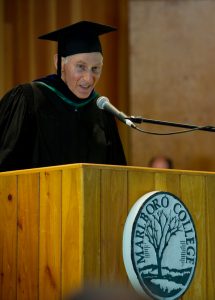 Since 1985, the Harold Grinspoon Charitable Foundation has supported education in inner-city Springfield, Massachusetts, encouraged energy conservation and local farming, and mentored talented entrepreneurs. The Harold Grinspoon Foundation, started in 1993, creates opportunities to connect with Judaism and the Jewish community, including the award-winning PJ Library® program that, in partnership with others, gifts more than 200,000 books a month to the Jewish community of North America and 750,000 books internationally on subjects of Jewish life and traditions. Marlboro is grateful that Harold includes the college in his philanthropic efforts, and recognized his global impact by conferring an honorary degree on Harold in 2012 (pictured, right).
Despite decades of living in California, Charlie Jones '68 still considers himself a native Vermonter. He grew up in Putney, and came to Marlboro College to focus on theater, playwriting, and life in Happy Valley. He fondly remembers working with legendary theater professor Geoffrey Brown, all-nighters by the fireplace in the library, and the "unexpected delight" of President Tom Ragle's Poetry Appreciation class. Fondly enough that he has been a consistent supporter from year to year, making him a solid member of the Town Meeting Society.
"In 1969, with Woodstock in the rear-view, I moved west thinking I'd be either a lumberjack or a hippie," said Charlie. "Instead, I found a rewarding, 31-year career with Delta Airlines." Now that Charlie is required to take distributions from his IRA account annually, which are taxed unless donated to non-profits, he finds it even easier to give to Marlboro. "Not to get into politics, but, give money to the college, or give it to the government? A no-brainer. Also, the Delta Airlines Foundation matches the gift, which is a welcome bonus."
"Community and freedom are intertwined at Marlboro, and should always thrive on a hilltop in Vermont," said Charlie. "I'm taking bets its future is bright ahead."
"I've developed a considerable loyalty to Marlboro over the years," said Chuck Staples '51, another pioneer and part of the Potash Hill Society. "When I went to Marlboro it was like the frontier, a rough and tumble institution. It barely survived those early years, but the dedication and sacrifice of the faculty pulled the college out of the ashes. Since then it has become a first class place of learning, with a fine reputation."
Chuck studied visual arts at Marlboro, then went on to spend 27 years working as a social worker for Chicago Public Schools. He also played a significant leadership role in the preservation campaign to save the magnificent Chicago Cultural Center—formerly the Chicago Public Library—from demolition in the 1960s. He was recently recognized as the longest serving volunteer at the Cultural Center, now on the National Register of Historic Places, where he still volunteers one day a week.
Chuck's memories of Marlboro are vivid, from hearing Robert Frost read his poetry in the dining hall to driving an old truck up to Burlington to buy some used fire brick from renowned Vermont potter Stanley Ballard, to build Marlboro's first kiln. "Marlboro is fortunate to have exceptionally good leadership, and I have great expectations," said Chuck, and his confidence is demonstrated by including the college in his will.