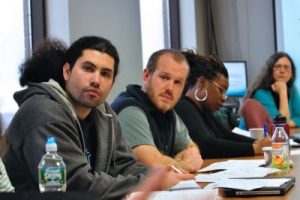 Marlboro College offers graduate programs in nearby Brattleboro, Vermont where many alumni have taken advantage of this local educational resource in order to advance their careers and interests. Beginning with the class of 2013, the college is guaranteeing admission to Graduate and Professional Studies programs for Marlboro's graduating seniors, and awarding these students a scholarship equivalent to 50 percent of the graduate tuition.
This opportunity is also available for a limited period to all alumni who have earned a Marlboro College undergraduate degree—for 18 months, or through February of 2015. Subsequent graduating classes will have the same 18-month time frame from their graduation to receive this scholarship.
"Marlboro College embodies the best of Vermont," said Ellen McCulloch-Lovell, college president, in her announcement of the new guarantees. "Our educational programs uphold Vermont's unique character in multiple dimensions—from a commitment to environmental stewardship and sustainability to a deep-seated respect for the individual and human rights. This new program expresses our confidence in and commitment to graduates of Marlboro College." The announcement is just the latest move to foster a sense of connection between the two campuses. Other recent programs include offering dual-degree programs that link the undergraduate and graduate trajectories and facilitating joint seminars that draw on the expertise of both faculties and student bodies.
One of the fundamental tenets of liberal arts education is to spur students on to deeper exploration and greater achievement. As members of the Marlboro College Graduate and Professional Studies programs, students will gain the relevant knowledge and practical skills they need to focus their scholarship further in a particular career path, lead thoughtfully, and meet the opportunities of an ever-changing and interconnected world.