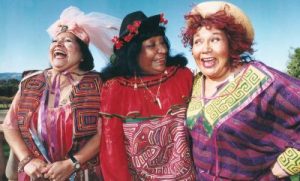 Theater professors Jean O'Hara and Brenda Foley and junior Rainbow Stakiwicz recently returned from participating in a weeklong residency with Spiderwoman Theater, the oldest Native women's theater ensemble in North America. Jean has worked closely with host Theresa May and Muriel Miguel (pictured, right), artistic director of Spiderwoman Theater, and continued their collaboration with this week of Indigenous-centered theater-making in May, at the University of Oregon.
The week showcased Indigenous theater as a medium to address Native communities' relationship to rivers, while highlighting traditional environmental knowledge. At the same time the residency demonstrated the importance of two-spirit artists and their plays, which help to ensure traditional Native understandings of sexuality and gender remain both in the archive and repertoire.
Muriel Miguel has created, produced, and performed multiple solo performances and also has developed a methodology for creating original works, called storyweaving. The residency offered Rainbow, who is creating an original, one-person show as part of her Plan of Concentration, an approach that breaks out of the conflict/hero-based Aristotelian model. At the end of the residency, Rainbow began a journey across the United States via train to interview people for her own solo performance. Brenda, Rainbow's Plan sponsor, will apply methods learned in the residency to the classroom and to her own work researching and weaving together the stories of women committed to insane asylums in the 19th and early-20th centuries.
For the past decade, Jean has worked in partnership with Theresa May on the Klamath Theatre Project, which addressed the unprecedented fish kill along the Klamath River in Yurok, Karuk, and Hupa communities. More recently Jean collaborated with Muriel Miguel on the anthology she edited, Two- Spirit Acts: Indigenous Queer Performances. They will be collaborating again this July on a Native theater intensive sponsored by the Centre for Indigenous Theatre.