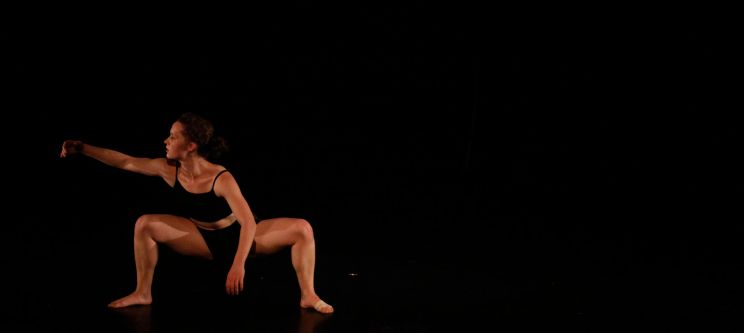 The New England regional conference of the American College Dance Festival Association, at Connecticut College, included dancers and faculty choreographers from top schools like The Boston Conservatory, University of Vermont and Middlebury College. The 44 dances presented were of the highest caliber, and 28 schools were represented. Marlboro senior Cookie Harrist's work was one of 10 selected for the final gala concert on February 11. The solo piece Cookie choreographed, titled "Present Present Present," was also among three acts chosen for a national conference gala performance in May, at the John F. Kennedy Center for the Performing Arts in Washington, D.C.
"I was most excited about the positive feedback I received from the teachers, choreographers and fellow students at the conference about my piece," said Cookie. "Getting into the gala was a bonus. Being selected for the National College Dance Festival, on the other hand, is just mind-blowing. It feels so wonderful to know that something I made spoke strongly to an audience and the conference adjudicators. It's sort of shocking that I was able to do that."
"Present Present Present" is an ambitious three-part piece that Cookie developed as a way to allow her more expansive exploration of movement and phrasing. Over the course of the dance, Cookie peels back the layers of artifice separating herself from the audience, establishing a powerful and increasingly intimate connection. "I started to realize that what I really wanted to do within the piece was to reveal myself onstage, not as a character, but as an honest, vulnerable, present human being," said Cookie.
"As a number of faculty from other colleges put it, Cookie has something to say," said Kristin Horrigan, Marlboro dance professor. "I would add that she has found a skillful and nuanced way to say it. As a performer, Cookie takes command of the stage, moving with depth of feeling, confidence and a generous spirit that includes the audience."
Cookie attributes her development as a dancer to the opportunities Marlboro College provides to think critically about dance, develop her technical abilities in new directions and grow as a performer. Like students in other disciplines at Marlboro, she's followed her own questions with the guidance of faculty.
"A dance student at Marlboro is not like a dance student anywhere else," Cookie said. "We constantly question why we dance in the way we dance. I don't think that I would have made such a successful piece of choreography had I attended another school."
"The personal and deeply investigated nature of Cookie's work is emblematic of work I have seen from Marlboro students," said Kristin. "Marlboro's academic program requires students to identify what truly interests them, pursue their own research and dig beneath the surface. Students here place value on cultivating their own artistic visions."
Cookie brought "Present Present Present" to the 2012 National College Dance Festival, held on May 25-27, a biennial event showcasing the outstanding quality of choreography and performance created on college and university campuses across the country. Besides the thrill of performing at the Kennedy Center, Cookie enjoyed the opportunity to perform her work for a broader audience, including many dance professionals. "It was the perfect way to enter into the dance world the week after I graduate."