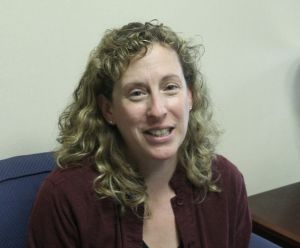 Deb Abrahams-Dematte has a strong interest in doing work that makes a positive impact on the world. Currently the associate director of admissions at High Mowing School, a Waldorf high school in New Hampshire, Deb's desire to reflect on making nonprofits more effective brought her to the Marlboro College Graduate School. She received a Winthrop and Bernice Blake Perry Scholarship from the New Hampshire Charitable Foundation, which covered her full tuition and made her graduate studies possible.
"I am really hoping to have a chance to take a break from all the doing, and do some thinking about what I am doing," said Deb, a student in Marlboro's new MS in Management of Mission Driven Organizations program. "It was totally and immediately useful with the work I was doing."
For Deb, great nonprofit work is very centered on knowing what an organization's mission is—and knowing how to communicate that effectively and efficiently. "Organizations are messy in real life," she said. "The idea of development is knowing who are we in the world, what are we trying to put out there, what are we trying to do and if we are doing that effectively." Deb is interested in finding ways to structure the governance and the culture of the organization that are "congruent with the mission and the ideals of the organization."
Over the past ten years, Deb has been thinking about how organizations like Waldorf Schools can achieve the maximum for their mission. She notes that a poorly organized nonprofit can make difficult work even harder, and can have direct effects on the output of an organization. "I have this burning need to figure this out and be able to take that into my work," she said.
Although she has to commute a few hours every month for the intensive sessions in the management program, she says she loves coming to Southern Vermont. "It's fun," she said. Best of all, Marlboro is able to mesh with a working person's life and other responsibilities. "They treat you like an adult, and it helps. It really makes a big difference."
"I feel like this master's program is giving me a breather, recharging my batteries and filling me up with so many new and interesting ideas, ways of thinking that I'll be able to bring into my work. I'm very committed to the work I do now and I want to do a great job in the next part of my career too, and I think this will help me do that."