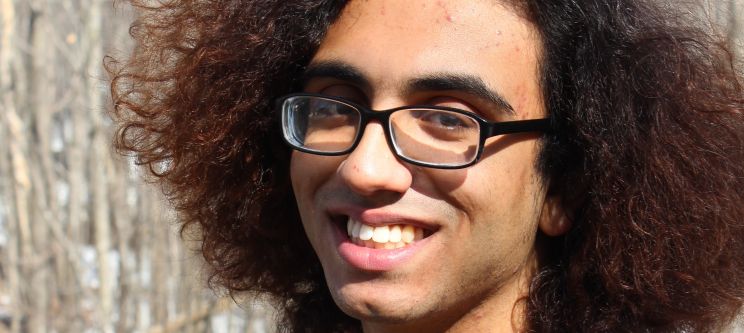 I read about Marlboro in Colleges that Change Lives. I knew its academic structure would fit me. I really liked the idea that I could have a lot of freedom in the curriculum and could pursue my interests. I wouldn't have to deal with extra requirements of other institutions that take time away from my real focus. That freedom was really appealing, and the idea that I could work one-on-one with professors in both classes and tutorials has been very helpful to me as both a thinker and an artist.
ON PLAYING THE PIANO
I started playing piano and composing when I was five. Playing piano and composing have been big parts of my life. I am a classically trained musician and composer, and growing up I worked mostly on Mozart, Bach, Beethoven, Schubert, and Schumann, my favorite. Throughout high school I took part in many competitions. I played at Carnegie Hall several times, and this summer I went to Vienna, Austria, and played my Rhapsody, which was a prizewinner in an international competition. I wrote that piece after sitting and gazing at the mountains in Ithaca, NY. It just came to me, and I quickly wrote it down. I often go back to that image in my memory; it is very fond to me. My works have also been performed in St. Louis and at Lincoln Center.
ON ACADEMICS AT MARLBORO
The professors do a fantastic job of pushing you here. It was definitely a challenge for me with my performance tutorial last semester, but they wanted to make me that much better. Everything here is to make you a better person and a better student. College should challenge you, and professors should guide you instead of always praising something that is less than you can be. The independence is very important.
ON STUDYING MUSIC AND BIOLOGY
People always ask me why I didn't choose to go to a conservatory. I wanted a broad learning environment. I knew I wanted a definite performance major, but I also wanted to explore science, especially neuroscience. I always want to try new things, and as a musician, it helps me to study multiple types of knowledge. My current music tutorial is on writing fugues, which will really help me grow.
ON SOCIAL LIFE AT MARLBORO
There are so many passionate people here. It's extremely interesting when you begin a conversation with someone about his or her interests. Marlboro also introduced me to rock climbing and skiing through the Outdoor Program. I also participated in the soccer team. It's all been a lot of fun.
ON ADVICE FOR INCOMING STUDENTS
Be interested in the classes you take. You have the power to choose what you want to do here. If you are really independent, you will do very well here. I would say come here focused on academics and be ready to explore your interests, because you will get to explore all sorts of subjects at a very high level, and course work is very intense. So definitely study what you are passionate about.