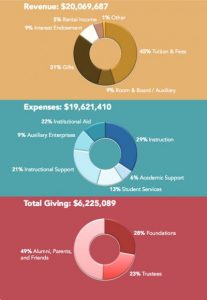 Marlboro College continues to be very fortunate in that its network of supporters were again generous with their philanthropy to the institution. The college was the recipient of 2,700 gifts during the 2015 fiscal year, which runs from July 1, 2014 to June 30, 2015.
Gifts totaled $6.3 million for FY '15 and revealed a diverse donor base with a broad philanthropic impact on the Marlboro community. A large portion of these contributions was directed toward the college's annual budget, which is essential to our operations. These unrestricted gifts to the college totaled $1.7 million and go directly to student financial aid, programming, faculty and staff salaries, library acquisitions, technological equipment, and other everyday operations that keep the campuses functioning efficiently.
Other important philanthropic gifts in FY '15 were restricted to the college's endowment, which stands at a robust $39 million. Contributions to the endowment this year totaled a little more than $1 million for FY '15, while restricted gifts for specific projects at the college totaled more than $3.5 million for the same period. Endowed funds and special projects may be designated for scholarships, faculty research, educational travel, or a wide array of investments in our mission.
Enrollments for small liberal arts colleges nationwide continue to be challenging but Marlboro remains strong in large part because of reputation, and the generosity of our incredible giving community of Trustees, alumni, foundations, corporations, parents, friends, faculty, and staff.
FOUNDATIONS
A.D. Henderson Foundation – $50,000
To support the Center for New Leadership
Alexander Schneider Foundation – $10,000
To support the Luis C. Batlle Chair in Music
New Hampshire Charitable Foundation – $2,500
To support ALIGN, a program for emerging community leaders
Putnam Foundation – $5,000
To support ALIGN, a program for emerging community leaders
TD Charitable Foundation $10,000
To support the Center for New Leadership
The Agnes M. Lindsay Trust – $5,000
An annual scholarship gift earmarked for students from rural New England communities
The Andrew W. Mellon Foundation – $50,000
To support visiting artist residencies that introduce digital media into the arts curriculum
The Endeavor Foundation – $275,000 and $100,000
To support Marlboro's strategic and presidential objectives
The Harold Grinspoon Charitable Foundation – $8,429
To support student financial aid, academic initiatives, and sustainable campus improvements
Thomas Thompson Trust – $5,000
To support partnership with Kingdom County Productions, offering free and reduced-price tickets to performances for youth and low-income residents of Windham County
Vermont Community Foundation – $5,000 and $500
To support the Center for New Leadership and the summer camp for nonprofits
Wolf Kahn & Emily Mason Foundation, Inc. – $23,500
To create an on-campus storage facility for Frank Stout's artwork