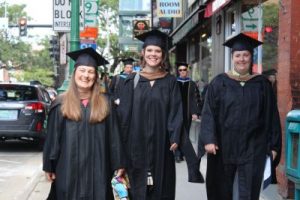 Marlboro College held its 18th graduate and professional studies commencement on August 22, when faculty, friends, and family celebrated 44 students at Centre Congregational Church, in Brattleboro. Former Governer Madeleine Kunin delivered the commencement address, drawing from her wealth of experience in government and civil society.
"With all the things you are doing in your lives already, I urge you to be activist citizens," Kunin told the graduates. "Impossible is not a fact. Impossible is an attitude, and I think you have that kind of long-range vision. Not accepting the word 'impossible' as you chart your next course is very important."
Graduates also heard from two of their peers, chosen by the degree chairs based on the story of their learning journey: Jodi Clark, who received an MS in Managing Mission-Driven Organizations; and John Pfordresher, who received an MA in Teaching English to Speakers of Other Languages.
"I expected to challenge and be challenged, and for the last 16 months that is exactly what I've gotten," he said. "I've acquired the knowledge and experience necessary to succeed in my field, and put my theory and my learning into practice."
Kevin Quigley, in his first official duty as Marlboro College president, addressed the graduates to express the college community's pride in their accomplishments and thanked their families for their support. He also asserted that the degrees they have earned, and the lessons along the way, come with expectations of greater contribution to their communities.
"Our expectations are quite different than those expressed in an ironic poem titled "M.A.," by Marlboro College's founding president, Walter Hendricks. He wrote, "Now that I have acquired these letters, I'll do my best to worst my betters."