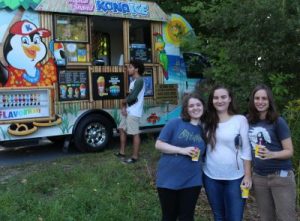 "I like the idea of the unexpected," said Harvey Geiger, who recently funded an initiative of "pop-up" awards for deserving Marlboro students. "I received a major unexpected grant while a graduate student at Yale. It changed my life, and my wife and I have endeavored to gift forward to others."
Harvey and his wife Pam have already been generous with Marlboro students, supporting a series of travel grants (see Giving in Action, Winter 2015) and funding new equipment for an upcoming croquet tournament. In this case they wanted students to have a special opportunity to pursue something serious or something crazy, with no boundaries: take a trip, purchase a computer, do something for others, "let their imagination run wild."
"There's been a lot of talk lately on this campus about the word community," said freshman Asa Shadis, who was awarded one of the five Geiger Pop-Up Awards on behalf of politics professor Lynette Rummel's dedicated hour advisory group. "We can think of no better way to make for a happy, productive, radically traditional, exciting, magical, cohesive community than with the availability of ice cream." The group will use their award of $1,000 to supply and distribute an abundance of ice cream, in diverse flavors and at strategic times throughout the spring semester.
Other pop-up proposals are more practical, even academic, such as junior Blake Stanton's award-winning plan to use his pop-up funds to take a summer intensive in Italian at the Umbra Institute in Perugia, central Italy. Freshman Marta Piper plans to use her pop-up award to create gardens on campus and introduce hives of bees, in an effort to stem the decline of these crucial pollinators. Senior Ian Hitchcock's award-winning proposal will allow his father, his only family, who raised him as a single parent and supported him through recent struggles, to travel from Wyoming and attend his graduation from Marlboro.
Sophomore Chris Lamb plans to use his Geiger award to visit the Rosebud Sioux reservation this July as part of his Plan work on Native American philosophy and spirituality. Chris intends to help prepare for and attend an annual Sun Dance spiritual ceremony, and to work with a local program called Tiwahe Glu Kini Pi, which means "bringing the family back to life." "Tiwahe is a program geared toward improving the lives of families and children with serious emotional disturbances through the implementation of a Lakota-based mental health model," said Chris.
"I seemed to have followed the road less traveled," said Harvey, who hoped to inspire students to follow their own passions with these innovative pop-up awards. "I set out on my life's journey with a few simple rules: cherish one's personal integrity and that of others; don't be an observer; make things happen."