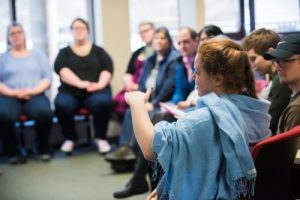 Marlboro College is pleased to announce plans to expand its MBA and MS in Management programs to include new concentrations in conscious business, collaborative leadership, social innovation and sustainable food systems, while continuing its popular concentrations in mission-driven management and project management. The redesigned curriculum builds from the school's strong history in socially-responsible management, while anticipating important industry trends. The new business concentrations will be available to current and future students beginning in September 2016.
"Our graduate and professional studies programs have been deeply rooted in Brattleboro since their founding in 1997—embracing and advancing the ethos of Marlboro College," said Kevin Quigley, Marlboro College president. "The education students receive reinvigorates not only their careers, but also their lives—creating ripples of influence that travel from Vermont to communities across the country and around the world where our alumni make their mark."
"Students and faculty-practitioners in our graduate community apply their passion, intelligence, and courage to address real-world issues," said Kate Jellema, associate dean for graduate & professional studies. "Whether students are focused on education or management, all are committed to gaining the skills they need to make a meaningful impact on their organizations, communities, and the larger world. We consistently urge our students to approach every new challenge with a collaborative spirit founded on self-awareness and empathy."
Marlboro is recognized for its innovative MS in Management and MBA programs—recently ranked among the top five sustainability MBAs in the nation by Conscious Company Magazine—both of which encourage students to work across sectors towards systemic solutions to real-world issues. The new management curriculum offers greater integration across concentration areas and strengthens the focus on educating for courageous and ethical leadership. All MSM students will take a core foundation of coursework to build critical analytical and relational skills before specializing in concentration areas. MBA students will follow these same concentrations with an additional layer of executive-level coursework, for a 45-credit program that can be completed in two years.
"This new structure will encourage more synergy between programs offered, a more unified identity, and a stronger overall impact on Marlboro College and the region," said Kevin. "We are building on our strengths and offering a clearer and more compelling path for prospective students in our area."