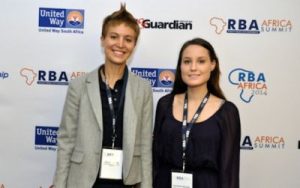 Marlboro staff members associated with the MS in Management–Mission-Driven Organizations program have been active recently in the growth of Results-Based Accountability in nonprofit organizations. In September, Program Chair Kate Jellema and Hillary Boone, nonprofit programs communication coordinator, led sessions at the annual conference of the Alliance for Nonprofit Management, in Austin, Texas.
"We came back invigorated by new ideas, but also excited about Vermont's leadership in fields like Results-Based Accountability, learning communities, and personal leadership development," said Kate. She gave a session called "How to Build a Great Learning Community," and Hillary led one on Results-Based Accountability (RBA). The Alliance for Nonprofit Management is the leading national organization for funders, consultants, academics, government employees, and other professionals focused on increasing the capacity of nonprofit organizations.
More recently, Hillary Boone joined fellow Vermonters Senator Diane Snelling and Scott Johnson of the Lamoille Family Center at the RBA Africa Summit, held in Johannesburg, South Africa, in October. There, Hillary (pictured, left, with Kayleigh Weaver of Results Leadership Group) presented a session titled "Lessons Learned in Large Scale RBA Roll-out and Implementation." In addition to handling communication for nonprofit programs at Marlboro, Hillary is program manager and RBA coach for Benchmarks for a Better Vermont, a federally-funded initiative to integrate performance measurement systems in Vermont nonprofits.