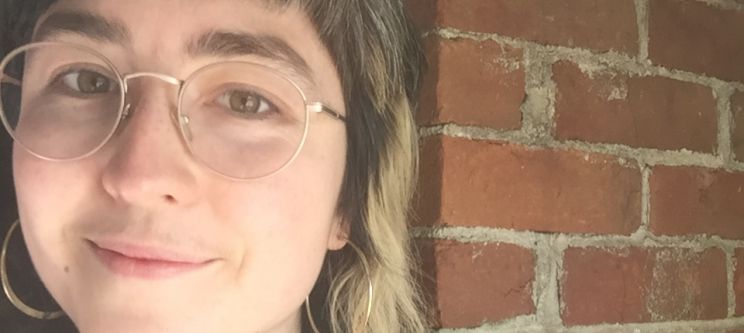 Hannah Cummins MAT '17 knew she wanted to go into education as an undergraduate at Marlboro, studying sociology and photography, when she attended an inspirational information session with Janaki Natarajan, program director for the MA in Teaching for Social Justice program. After three years at Marlboro she finished her bachelor's at Goddard College, but returned to the graduate program to continue her education.
"I was exploring the same things as an undergraduate," says Hannah, who earned her MAT-SJ in December. "I was looking at social justice issues and how to better understand the world around me, like the historical context around the current moment. Being able to go to a one-year program like Marlboro's was just incredible. I also found the passion for learning similar to the undergraduate program."
What attracted Hannah to the MAT program was the focus on praxis—applying knowledge to the real world. She was placed in an internship right away, in a social studies classroom at Four Rivers Charter Public School, in Greenfield, Massachusetts, and after one semester she was offered a position at the school.
"Four Rivers has a project-based model, and all of the learning has larger implications," says Hannah, who credits her Marlboro experience with teaching her about academic rigor and perseverance. Although she has not been practicing her own art as much, she is grateful for the art education she gained at Marlboro and frequently brings art into the classroom. "It continues to serve me in my everyday life, in terms of being a critical thinker."