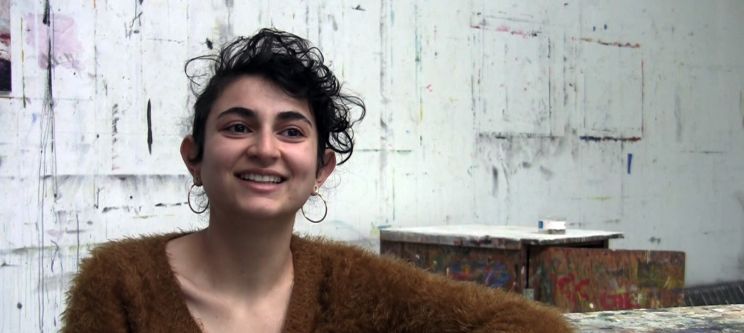 I was first recommended by a friend to come to Marlboro. I was at Southern Methodist University, in Texas, and I wasn't happy. I had a friend who had previously gone to Marlboro and graduated, and he really spoke highly of it. He told me that I'd be able to come here and work independently. The interdisciplinary aspect—the fact that I could work independently on a lot of things and that there were no requirements for the major you had to do—really drew me.
ON ACADEMIC FREEDOM
I definitely think that it has lived up to all of my expectations. As soon as I got here I was able to take a dance course, and all the art classes I wanted as well as film history. All of those things were things that I was interested in even if they weren't directly related to my Plan. If there were requirements, I would've felt more pressure to take the things that I had to take, whether or not they were more useful to me.
ON PERSIAN-JEWISH IDENTITY
Both of my parents are Jewish from Iran, but I was born in the US and went through a Jewish day school for most of my life, and that's really prevalent in my life. There were often conflicts at the Jewish day school because of my Persian identity. Once I left it was even more complicated because not only am I a Persian living in the U.S., but amongst the Persian community sometimes it matters and sometimes it doesn't matter that I'm Jewish. It gets overly complicated because there is no one way to exist. Nothing works in that way with identity. I go to Israel a lot and there are a lot of ways I feel very at home in Israel but it's complicated because of the way that I feel around occupied territories, and family relations. In the U.S. I feel at home when I'm with my family but there are some obvious conflicts that occur with that, especially growing up in Texas.
ON VISITING THE MIDDLE EAST
I am studying visual arts with more of a focus on sculpture and video, even though I do draw and paint. I have been mostly making work that has to do with my Persian and Jewish identity being in the U.S., so I've also done some things that aren't art related. I did a tutorial on Jerusalem and I took a class on the Arab spring, and I was still able to take all of my sculpture classes. I know I'm going to do an exhibition of work, and I'm going to Cairo soon for my independent. I've already explored what it means to be middle eastern in the U.S. so being American in Cairo will be a big part of what I write about. This upcoming semester I'm doing "absentia" and emailing and skyping in all my classes. I'll be working with an artist collective in Cairo as well as working with the ministry of culture in Cairo.
ON SOCIAL LIFE AT MARLBORO
I've made friends here faster than I have anywhere else I've ever been. The culture of Marlboro is super weird—this is the most insane group of people I have ever met in my life—but so smart. Everyone is so helpful, and really, really, smart. I think I've gotten extremely close with a solid group of people within the year that I've been here.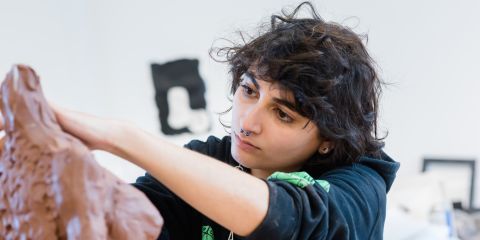 ON ADVICE FOR NEW STUDENTS
When you first get here take as many different kinds of classes and figure out the professors you like, and plan tutorials.