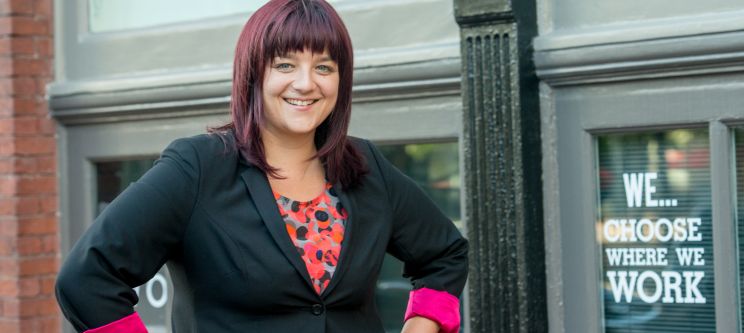 A self-described "start-up junkie," HeatherJean MacNeil launched her first venture, an ethical fashion company called Proxy Apparel, in 2008. Since then she has joined the team at the Center for Women's Entrepreneurial Leadership, at Babson College, where she founded a women's accelerator program called the Women Innovating Now (WIN) Lab.
"I love working with women founders and start-ups," says HeatherJean, whose experience launching Proxy opened her eyes to gender biases for entrepreneurs. "I'm very passionate about closing the gender gap in entrepreneurship. The WIN Lab has become my outlet to design and test possible solutions and educational models that could change the landscape for women founders and CEOs."
The WIN Lab is a nine-month, customized program for women entrepreneurs (that's right, WINners) to test, launch, and grow high-potential, high-impact ventures. The program is rigorous, milestone-driven, and recognized by the U.S. Association for Small Business and Entrepreneurship as an outstanding specialty entrepreneurship program. Last December, the WIN Lab received BostInno's "50 on Fire" award for cutting-edge educational programming.
"I love working in Boston's start-up scene, and being around creative people executing on their ideas, problem-solving, and being bold," says HeatherJean, but she can still wax nostalgic about Potash Hill. "My Marlboro friends are for life, and the most talented, audacious people I know. The pressing questions of my Marlboro professors are still like a bug in my ear, and they continue to sponsor my ongoing 'Plan' in life. Marlboro teaches you to write and find your voice, and I have always found this to be a competitive advantage."
HeatherJean is starting a fulltime doctoral program in entrepreneurship and strategy at Bentley University this fall, and will be working to scale the WIN Lab globally. For more information, go to thewinlab.org.