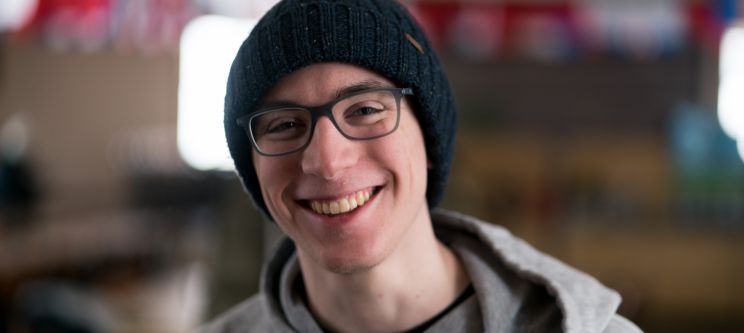 I wasn't really looking to go to college, but I went to a summer program here at Marlboro. And then I went to another couple of summer programs here, and also the Beautiful Minds Challenge. It was really interesting—I made a "found" poetry 'zine. I got to see a lot of the campus during those programs and I really liked the experiential, science-oriented programs.
ON ACADEMIC FLEXIBILITY
As someone who was homeschooled, Marlboro mimicked a lot of the ways that I was already learning. Other colleges didn't have that, and didn't appeal to me. I never really learned how to study in a traditional sense, so Marlboro's flexibility has helped me a lot. I know this is a typical thing to say of the college but I get to choose to take what I want—I don't have to waste my time on things that don't interest me. I only have so much time to practice the things I'm passionate about and Marlboro lets me do that.
ON COMMUNITY SERVICE
I'm always so hyped for Work Day. It's probably the best day of the year, and I love jumping in on people's projects—I usually do a few things during the day. Trail maintenance in one of my favorites. I've cleaned out the gym, the kiln shed, and fixed the stone benches at the Outdoor Program—I've done that a few times.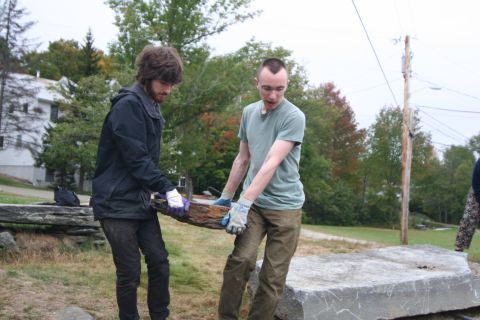 ON DOING CERAMICS
I had always wanted to be an artist, but part way through high school I told myself that I had to get "serious" and get into science. Still, as soon as I started taking art classes at Marlboro I knew that was the right thing for me. Now I do ceramics and drawing. Right now I'm doing a tutorial about surface decoration in ceramics which kind of combines the two things I like most in art. There's also so much chemistry involved—so much people still don't understand about ceramics materials and the firing process—and that stuff is pretty interesting, and easy for me to grasp as far as science goes. You can predict the way things will act, but there are a lot of crazy variables.
ON PLAN OF CONCENTRATION
It makes me really anxious to think about Plan, in kind of a good way. I've been thinking a lot about it since I came here. I have some ideas. I've been studying Japanese pottery, and there's this movement called the mingei movement, which was a counter-industrial craft movement in the 1920s and '30s that is interesting to me. It's about bringing ceramics and art to a wider audience through skills and traditions. I don't just want to emulate this movement but make something that's a little more personal to me and can also be useful. Not these high-art objects. It would be one thing to bring art to a lot of people, but it's another to create things that are really interesting.
ON SOCIAL LIFE AT MARLBORO
It's been interesting here, for me. I've always had groups of friends that have shifted. I've done a lot of Outdoor Program stuff. I've been a rock climbing wall monitor, so I'd get a lot of people in there—usually my friends that I can convince to rock-climb—and I do a lot in the studio with my friends as well. I like to be productive while I'm hanging out with people. I like to do a sport, or working out, or making art. People try to get me to play soccer, but I'm more of a solo sports kind of person. I like doing it with somebody, but it's about what I'm doing, like rock-climbing or running. I'm all about running.