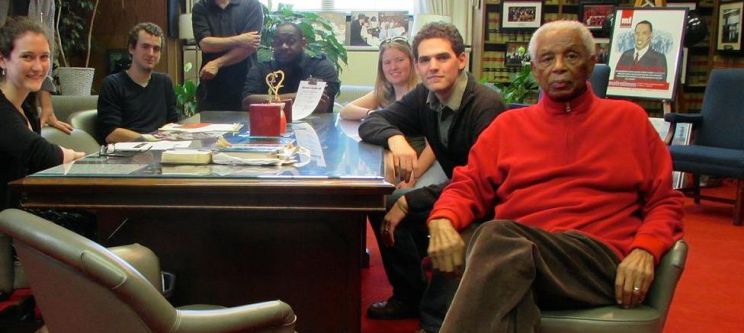 "I first learned about Federal Judge Damon J. Keith when I was at Marlboro during a tutorial with Kate Ratcliff on politics and music in the United States," says Jack Rossiter-Munley '12. Little did he know then that fellow alumnus Jesse Nesser '13 would approach him to help produce a film about the legendary judge, now 92 years old and serving on the U.S. Sixth Circuit Court of Appeals. The upcoming film, Walk With Me, relates the legacy of the civil rights movement as told through the life of Judge Keith and his landmark decisions on issues ranging from school discrimination to the right to privacy.
"Judge Keith has spoken at length during our filming about his views, not only on the history he witnessed and shaped but also on more current events, always with a sense of positivity," says Jack. "The knowledge that during his more than 60-year fight for equality, a fight that is far from over, Judge Keith never became cynical or disheartened, never let his hope desert him, has been deeply affecting. I hope to emulate his kindness and integrity as best I can in my own life, and I am passionately committed to bringing his story to a wider audience."
Jack couldn't do that alone, and for him one of the most rewarding parts of filmmaking has been collaborating with committed, creative individuals, many of them from Marlboro. In addition to fellow producer and director Jesse Nesser, help has come from co-producer Patrick Lane FS13, music producer Rebecca Gildea '12, and music professor Matan Rubinstein, who created the score. "Marlboro challenges students to conduct complex, independent, intellectual work, not unlike the process of making a historical documentary," says Jack. "The passion required to complete such work is undoubtedly present in all the Marlboro alumni working on this project." Learn more at thedkdoc.com and facebook.com/thedkdoc.