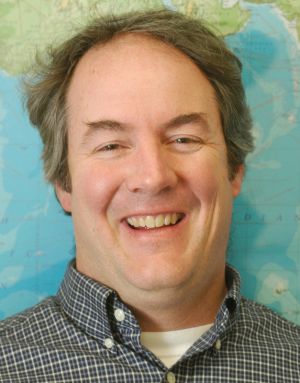 Google Maps says it takes around two and a half hours to traverse the 147 miles between Brattleboro, Vermont and Barrington, Rhode Island, where Jim Bride and his family make their home. For Jim, the value found in interacting with his fellow students in the MBA in Managing for Sustainability program has made it worth taking this round-trip trek once a month over the past two years.
"The strong sense of community and the intentional development of this community through the co-creation process have made this Marlboro MBA Program thrive," says Jim. "Marlboro's focus on this community-building piece is a real strength of this program and should be emulated at other business schools and programs around the country."
Jim had been working in the development office of an independent high school when he learned that Marlboro offered an MBA focused on sustainable practices. He says the curriculum design and the rigor of the program resonated with him at a time in his life when he was looking for an education that provided a solid foundation in business but still explored alternative ways a business could operate.
"I really have been stimulated and inspired by the amazing conversations happening in the classroom and am awed by the caliber of my fellow students and their breadth of knowledge in business and life experiences."
Jim was fortunate enough to be in a position where he could take a time-out from the workforce and be a stay at-home parent while pursuing his MBA, which he hopes will help him start a career in either the alternative energy or local food industry.
"It has been a lot of fun and a nice balance between schoolwork and parenting responsibilities these past two years, but I am now ready to get back into the work world," says Jim.
Farm Fresh Rhode Island is Jim's Capstone Project sponsor. They are a non-profit organization that works with farmers across the state. His project is a feasibility study for the creation of a public market in Providence. The study weighs the associated benefits and challenges while also exploring a revenue sharing model that would help Farm Fresh in its mission to support and promote local farms.
"I hope to get a better understanding of how sustainability practices can be intertwined into our current way of doing business so that we eventually create a new paradigm for doing business around the globe," Jim says.