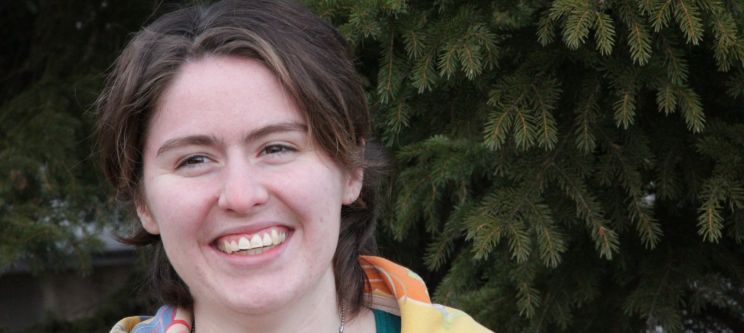 When I worked at Woodcock Nature Center in southwestern Connecticut, I taught children ages 3-12 about environmental issues and natural science. An alumnus of Marlboro who I was working with at the center told me that I should look into the college, and that I would really enjoy it. When I saw the rock wall on my visit, I knew Marlboro was where I wanted to go.
ON WORK DAY
Marlboro was founded in 1946 by a whole bunch of returning veterans on the GI Bill. Essentially, it used to be a farm, so they had to work to turn all of these buildings into academic buildings. Work Day is something we still do once or twice a semester. The OP takes ideas that students and staff and faculty give us, regarding new infrastructure or beautification. It can be anything from library beautification, trail work, the greenhouse we just finished, to cutting holy cedar for a cross-cultural service-learning trip. It's really anything the community wants and is feasible. As Work Day Coordinator, my job is just to try and coordinate it and make it happen.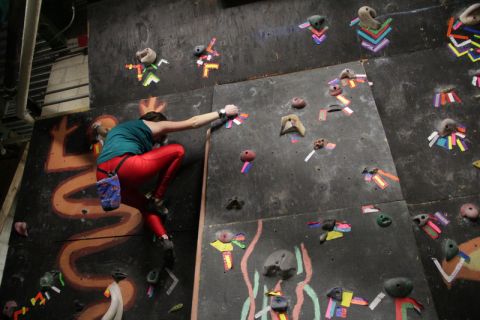 ON THE CLIMBING WALL
In the '90s, the space was originally used for prop storage for the theater upstairs. There were a bunch of chemistry students who were testing how different chemicals worked in epoxy, which is a super dense glue, by gluing rocks to the wall. Then the students started climbing the rocks. When the administration found out, instead of freaking out they gave them more money and made them part of the OP. A whole bunch of students got together made a large climbing wall. We try to make it a stress-free environment where people can take their mind off of things for a couple hours.
ADVICE FOR INCOMING STUDENTS
Don't waste time on things that don't make sense to you. Immediately go with the flow of what you want to do and who you want to be. If it is something that seems very strange, and doesn't sit well with you, don't do it. Invest in something meaningful. If you have your energy going to something you don't like, it brings everything else you do down. I would also recommend taking part in the OP because it offers really great stress relief. There are plenty of opportunities aside from extreme sports, like hiking, basketball, soccer etc.
ON ACADEMICS
The academics are above and beyond what I would have expected. The professors are genuinely concerned with how you are doing in their classes. I am currently taking a course called Writing Like a Mountain. I really, really like it because one of the required things is that you have to go hiking out in the woods and write about it. We climbed Mount Monadnock and read some Henry David Thoreau at the top. It was fantastic. It takes a certain motivated student to be here, and if you have that type of motivation, you will really fly here.
ON THE OUTDOOR PROGRAM
The Outdoor Program building is like Mr. Magoriums Wonder Emporium. There are wonderful things like snowboards, snowshoes, skis and tennis balls that anyone can rent out. And it's free. The OP also directs all the orientation trips. If you come here as a new student, you will go on a Bridges trip, which can be anything from kayaking to rock climbing, water rafting or even writing. The students in my Bridges trip still maintain the bond we formed throughout that week. It creates a foundation for friendship and camaraderie.