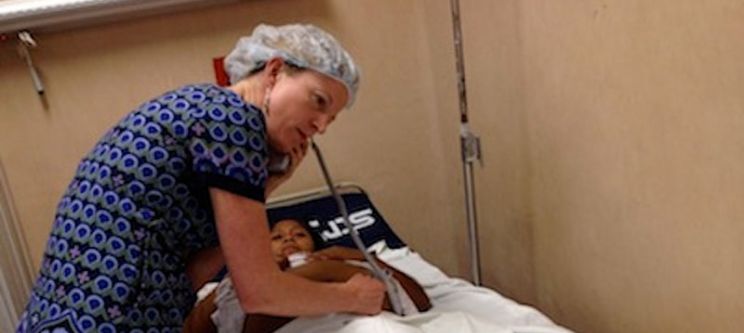 "My work at Marlboro sparked a lifelong interest in international health care," said Kristin Anderson '95. She did her Plan of Concentration on medical anthropology and ethnobotany, focusing on traditional medical systems of midwives in the Guatemalan highlands. "It has given me some basis of understanding the interplay between aid agencies the peoples they serve."
When still a Marlboro student, Kristin Anderson '95 also ran a popular catering service that grew into a restaurant in Brattleboro called Max's. She and her chef husband Matthew Blau have gone on to own a successful wine bar and Fireworks Restaurant in both Brattleboro and Keene. But in recent years her passion for international medical work has resurfaced through two trips to Nicaragua.
Kristin received a degree in nursing from the University of Massachusetts Amherst in 2009. She went on to obtain specialty certification in maternal and newborn care, and has worked at Brattleboro Memorial Hospital Birthing Center ever since.
"We try and keep the same nurses and patients together from birth through their stay, for better continuity of care, so I really get to know my patients," said Kristin. "It is an incredible honor to be present at the birth of a family, when a mother takes her babe in arms for the very first time."
In March 2012 Kristin and two of her colleagues from BMH travelled to Leon, Nicaragua, to teach a weeklong course on breastfeeding to doctors and nurses in a national teaching hospital called Hospital Escuela "Óscar Danilo Rosales Argüello," or HEODRA. They were invited by the hospital to teach the course as part of the hospital's participation in the Baby Friendly Initiative, an international program created by the World Health Organization and Unicef.
"HEODRA is a very resource-poor facility in the second poorest country in the western hemisphere, and all services and medicines provided by the hospital are free to its patients," said Kristin. "We created an interactive course on lactation and brought down teaching materials, participant manuals and medical supplies requested by the hospital."
Although breastfeeding has been shown to save lives, especially in poor countries like Nicaragua, formula companies and national politics have had a large impact on feeding choices for infants. The breastfeeding rates in Nicaragua are still low, and the country suffers from high rates of maternal and infant illness and mortality. Because of the success of their course Kristin and her colleagues were asked to return and teach it to a new group of participants, including medical personnel working in rural communities, in March 2013.
"I really, really want to do more international medical work. It is what I most enjoy and am most passionate about. I plan on continuing the work I have been doing in Nicaragua and perhaps expanding the work to other countries in Latin America."