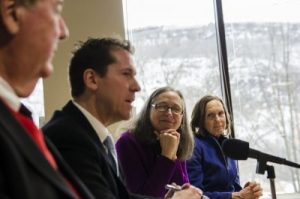 "We wanted, first of all, to benefit our students, and offer a wider array of programs," said Ellen McCulloch-Lovell, Marlboro president. "We also want to work hand-in-hand with economic development." She was speaking at a February 3 meeting with representatives from five other colleges, who had assembled at the Marlboro College Graduate and Professional Studies Center to sign a memorandum of understanding launching the Windham Higher Education Cooperative (WHEC). "We have to understand our roles as some of the largest employers in the county."
The Windham Higher Education Cooperative includes Marlboro College, Landmark College, Vermont Technical College, Union Institute, School for International Training, and the Community College of Vermont. The MOU between them, the first of its kind in Vermont, establishes a cross registration agreement that allows students to take courses at other institutions, as well as a shared internship program. The six representatives each spoke in support of the collaboration, and introduced themselves to the new fulltime internship coordinator, Jan Coplan.
Patricia Powden, executive director of the Brattleboro Development Credit Corporation, stated that the goal is to link student internships with local businesses, thereby benefitting economic development in the region. She said students at all institutions can expect to see an increase in paid internship opportunities, thanks to a $60,000 grant from the Vermont Department of Labor, as well as more opportunities for receiving academic credit.
"We can build on each other and not duplicate each other's efforts toward more robust programming," said Ellen. "We're all very cost conscious and we are trying to find ways to combine our resources, and not duplicate them." The cooperative plans to meet in the future and continue to bring innovation in higher education to the region.