The passion and enthusiasm that Marlboro's management students demonstrate in addressing the challenges and demands of advanced study produce successful outcomes in their lives and substantive change in their careers and their communities. If you would like to ask an alumnus questions about our programs, please contact the office of graduate admissions at (802) 258-9209.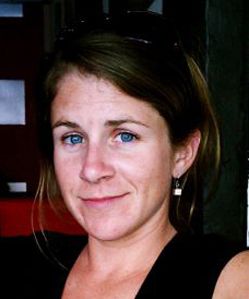 EMILY SHIPMAN MSM '12
"The certificate program was incredible. When I found out there was another step I could take as far as my nonprofit education, I jumped at the opportunity." Part of the next step in the degree program is Marlboro College's Capstone process. Through this, Emily found her dream job working for the Sustainable Food Lab. Emily captures the sentiment of most of our students, "The capstone process really broadened my horizons and gave me some experience that I didn't have, but wanted to put on my resume."
At the Sustainable Food Lab she works as an integral part of their agriculture and development team, providing much-needed research, analysis and project management to support the Food Lab's efforts in improving value chain sustainability. Her MSM MDO from Marlboro College proved invaluable during her capstone project with the Food Lab and now in her work with them.
Emily says it best herself: "I worked full-time while in school—the MDO program was a challenge, but it changed my life. I'm really excited about what's next for me. Marlboro is a really hands on place to learn. They want you to solve real world problems and it's not merely academic. The faculty really push students to tackle real world problems and to be practical about their work and apply it."
KATHLEEN DRAPER MBA '12
Kathleen describes herself as "a biochar maven on a mission to 'plant waste wisely' by turning local agricultural waste into a value-added carbon-negative soil conditioner."
"Biochar is a carbon-negative technology that is on the cusp of emerging from research labs to the marketplace," said Kathleen. "Currently there are very few business models in the U.S. or elsewhere for biochar production." Her capstone was focused on creating a small-scale replicable business model which keeps production and markets local, to maximize the carbon-negative aspects of the technology. She recently launched a pilot project in the Finger Lakes region of western New York.
"Initially biochar and biochar blends will be sold to organic gardeners, greenhouses, farmers, turf management and environmental remediation consultants. In the future, services to manage organic waste on-site will be offered to farmers to minimize transportation, minimize costs and provide on-site education opportunities for farmers in terms of why and how to use biochar while managing waste."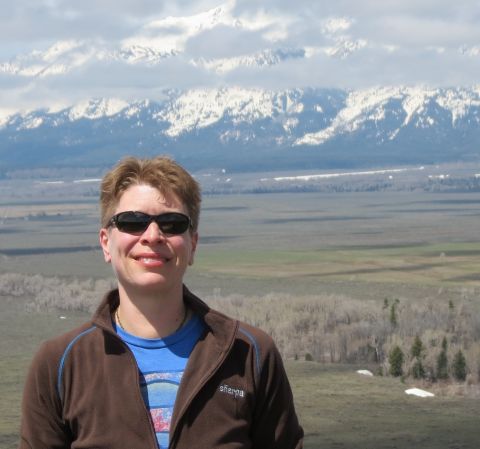 JODI CLARK MSM '14
PROJECT MANAGER, SOUTHEASTERN VERMONT ECONOMIC DEVELOPMENT STRATEGIES
"In all of my work with the various arts, education, and community initiative programs I have found myself at, I have learned that I am truly passionate about working within a community and with a community to be part of the co-creation process. The MDO program was a perfect fit for me to further my skill sets and leadership capabilities so I can take what I have already learned to the next level." In addition to her work with SEVEDS, Jodi is also training as a leadership guide with the Generative Council at the Center for Nature and Leadership, and planning to launch a local version of the program in Vermont.
"In so much nonprofit work, you are forced to glean little snippets of good management theory or practice on the spot and sometimes with very little guidance. The MDO program is the place where you can finally learn all of the critical skills that bolster mission-driven work, allowing you to succeed rather than burn out. No matter how much nonprofit experience you have had before, be ready to be pleasantly surprised at all of the new learning you have coming."
"The learning I have gained from the program has exceeded my expectations. I had hoped for some skill training and what I have gotten is truly life training."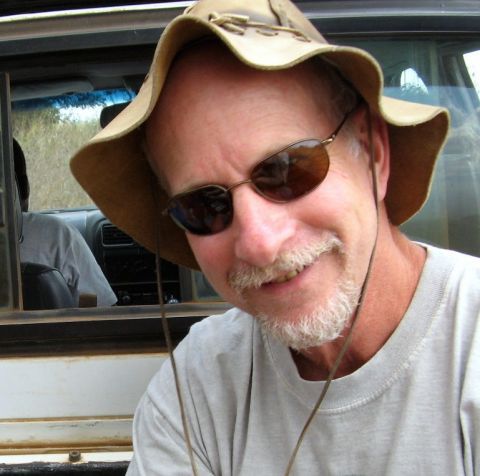 DON SIMMS MBA '11
CO-OWNER, COLE SIMMS DESIGN BUILD
When Don went to Malawi in 2010 with then-faculty member Beverly Winterscheid and five students in the MBA program, he knew they were going to work on a sustainability internship at the Toleza Farm, located in Balaka. What he didn't know was that the visit would change his life immeasurably, and his participation would in turn alter the lives of several children in the village. While they explored sustainable agriculture and business strategies on Toleza Farm, the group also learned from villagers about the power of educating girls to raise the local standard of living.
"At the end of an amazing trip our group formed the concept and seed-funded the Daughters of Toleza scholarship, a nonprofit that empowers one Malawian girl at a time with expanded life choices, by supporting her secondary education," said Don, a building contractor who lives in western Massachusetts. Don's capstone was a feasibility study for emerging organic or specialty markets, enabling the Toleza Farm management to positively address critical business practices and assure its sustained economic vitality.
"After five years of fund raising, the Daughters of Toleza supports eight Malawian girls who go to the Bakhita Secondary School, a boarding school located in Balaka," said Don. One of the founding members of the scholarship fund, he is focused on giving back and serving the greater good by being a very active fundraiser, the Facebook page manager, and a primary contact with the Malawian team and the Bakhita School. Learn more at www.daughtersoftoleza.org.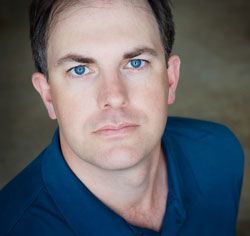 ROBERT HART MBA '12
Robert is excited to join the team at the Consortium for Energy Efficiency (CEE) as program manager, working in the industrial sector. CEE is a consortium of energy efficiency administrators across North America who work on common approaches to advancing efficiency.
"I will be able to leverage my experience as a Naval Officer, along with my MBA, to advance energy efficiency in industrial systems. One of my main responsibilities will be facilitating a committee of program administrators; what I learned about facilitation from MBA community builders Lori Hanau and Jeff Saari was instrumental in preparing me for the job."
Through joining forces, the individual efficiency programs of CEE are able to partner not only with each other but also with other industries, trade associations, and government agencies. By working together at CEE, administrators leverage the effect of their funding dollars, exchange information on effective practices and, by doing so, achieve greater energy efficiency for the public good.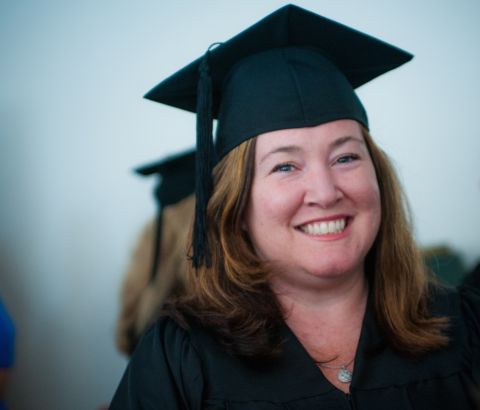 CHRISTINE HAZZARD MSM '13
While still an MSM MDO student, Christine got her perfect job at the Brattleboro Housing Authority as their SASH coordinator. She says that she loves her job because, "I support people by organizing and facilitating healthy living workshops, assisting in transitions from assisted living or hospital stays and connecting participants to resources in their community." In her new role, she works to build trusting relationships with participants in SASH in order to develop a thorough knowledge of each participant's strengths and challenges as they pertain to remaining safely in their home. "My objective is to help participants in remaining at home safely as long as they wish and to create a plan to meet their personal healthy living goals."
Christine says, "Marlboro's MDO program seemed like a perfect match." She further explains how her degree outcomes are directly impacting her new work. "I am amazed at how many aspects of my graduate school experience I have been able to apply to my work. I looked for a school that would teach me the skills needed to run a nonprofit program with a business mind set. I have certainly gotten what I came for and then some. I know that without all of the real world projects that I worked on I would never have been offered my new job."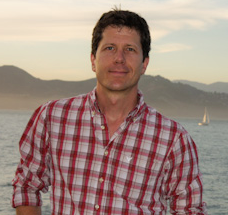 KEVIN LEHMAN MBA '11
CEO AND CO-FOUNDER OF THREE REVOLUTIONS, VERMONT
"Three Revolutions is a new online platform for strengthening our food system," said Kevin. "It is the only crowdfunding platform in the world wholly dedicated to farm and food ventures." Kevin's final Capstone project was the genesis for Three Revolutions, and he has spent his time since graduation preparing for the Spring 2012 launch of this new business. Kevin is excited about bringing his experience in food, business and the web to a start-up he believes will help to revolutionize the food system.
Marlboro MBA alumni Chris Lindgren is Co-Founder of Three Revolutions. Kevin and Chris are being advised by Marlboro MBA's Entrepreneurship professor Will Keyser.
CASSANDRA HALLOWAY MSM '14
POLICY AND PROJECT COORDINATOR, BRATTLEBORO AREA PREVENTION COALITION
Cassandra landed her job at BAPC before she graduated. "While still a student, I was able to get a great position at a dynamic nonprofit headquartered right here at the Marlboro Graduate Center. My education and class projects from Marlboro played a large role in landing the position."
At the BAPC, Cassandra's work focuses on increasing the effectiveness of drug and alcohol prevention in southeast Windham County. Her Marlboro education not only helped her secure this job—it is also helping her to perform it more effectively. "The experiential aspect of the MSM MDO's courses makes the learning stick. The class projects are tangible and completely applicable to my current and future professional endeavors."