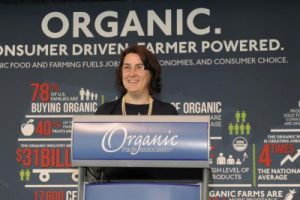 Laura Batcha, a 2007 graduate of Marlboro College Graduate School, has been named executive director and chief executive officer of the Organic Trade Association.
Laura, who started with the association six years ago as marketing and public relations director, is the fourth executive director in the 29-year history of the Washington D.C.-based organization, whose membership includes farmers, ranchers, handlers, manufactures and retailers.
Most recently she has been executive vice president of the Organic Trade Association and is the chairwoman of the association's political action committee. She served on two federal advisory committees in 2011, one on the coexistence of biotechnology and organic and identity-preserved agriculture and the other on international trade.
Before joining the Organic Trade Association, Laura worked for Tom's of Maine, Kennebunk, Maine, for almost 10 years. Before that she owned Green Mountain Herbs for more than seven years.