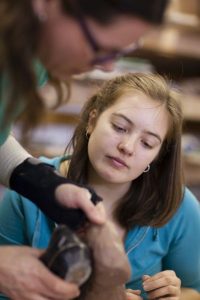 In March, Marlboro College and Greenfield Community College entered into an Articulation Agreement to promote the transfer of graduates from GCC to Marlboro, and to ease the transfer process. Richard Glejzer, dean of faculty at Marlboro, states that the agreement "offers a wonderful opportunity for students working in a variety of fields—especially the arts—to come to Marlboro. It allows students who haven't thought of a four-year or private college an avenue to find us."
The application fee at Marlboro is now waived for GCC graduates and currently enrolled GCC students, who will receive academic advising if they are interested in transferring. GCC students are encouraged to contact Marlboro in their sophomore year to facilitate a transfer and begin preparing for Plan work.
According to the agreement, Marlboro will accept a maximum of 60 approved academic transfer credits from GCC. Like other students, transfer students are eligible for need- and merit-based financial aid at Marlboro. In addition, graduates who meet admissions eligibility will be awarded a $1,000 transfer award to help ease their transition.