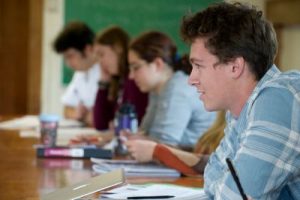 Marlboro College is pleased to report that it ranks in the top third among private colleges in the United States, in terms of endowment per student. That ranking is in comparison to endowments at 805 other colleges and universities included in a national study conducted in 2012 by Reach High Scholars.
"Although Marlboro's endowment is a modest $39.5 million, that amount can go a long way on a small campus with less than 300 students," said Bryant Morgan, chief planning and budget officer. "At nearly $132,000 per undergraduate student, the value of our endowment would have placed Marlboro College in good company among many other highly regarded and well known institutions in the country."
Marlboro participated in the NACUBO-Commonfund Study of Endowments that was the basis for the Reach High results, but was not included in the latter study. "Endowment value per student has subsequently grown to more than $172,000, enhancing the capacity of the endowment to provide significant and continuing financial support for every student enrolled at Marlboro College," added Morgan.