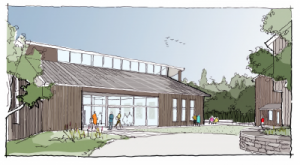 Marlboro is pleased to announce plans for a new arts facility on its undergraduate campus, the Snyder Center for the Visual Arts. Thanks to an anonymous donation of $2.6 million from a loyal, long-time supporter, part of a $3.5 gift in total, construction on the new building will begin in August.
"We have discussed creating a more functional and aesthetically pleasing space for art students, faculty, and visiting scholars, for several years," said Ellen McCulloch-Lovell, Marlboro president. "Thanks to the generosity of our donor, this new arts center will become a hub of interdisciplinary collaboration, and a bright, new space for exhibitions, workshops, and events."
"A quarter of Marlboro students do some sort of visual arts as part of their Plan of Concentration," said ceramics professor Martina Lantin, who has headed up the "user's group" of faculty and students that worked with the Gensler architectural firm. "The goal in this has not been to have any more space, but to make the spaces more integrated and healthy, and to allow a more flexible pedagogy."
The Snyder Center for the Visual Arts, with a total area of nearly 14,000 square feet on three floors, will be built adjacent to existing visual arts buildings, forming a small quad. The new building will include classrooms, a gallery space, a digital media lab, student studios, ceramics studio, sculpture studio, and welding area.