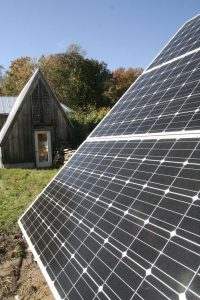 As a college offering a Plan of Concentration in environmental studies, a semester-long program on energy and climate justice, and an MBA in Managing for Sustainability, Marlboro considers it important to put theory into practice. Building on other recent capital improvements, such as installing a solar hot-water system on one dorm and increasing energy efficiency, the college has begun installing photovoltaic panels at both the graduate and the undergraduate campuses.
In October, the addition of new solar panels on the south-facing awning of the Marlboro College Graduate Center marked the first stage in the latest greening effort at the college. The new system includes a series of 16 grid-tied photovoltaic panels, rated at a total of 4,560 watts, facing the graduate center parking lot.
"It's a very visible start to what could be a larger project down the road," said K.P. Peterson, the college's master electrician and a Marlboro MBA graduate who planned for the installation as part of her Capstone Project. Although the panels are not sufficient to generate all of the electricity used by the facility, long-range plans include expanding on the project to include panels on the roof.
Not to be outdone, in December the undergraduate campus completed installation of a solar array at the community greenhouse, which will offset the future addition of lighting and ventilation in the building. The system includes 15 panels of 320 watts each for a total of 4,800 watts, mounted on a custom frame of rot-resistant locust and white oak. The solar array came alive at a switch-throwing ceremony on December 9, with hot cider, Christmas lights, and boom boxes. Like the graduate center installation, this array is just the beginning of long-term plans to expand on Marlboro's renewable energy profile.