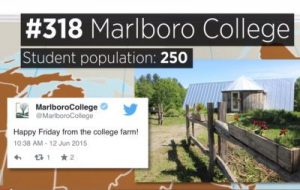 Marlboro College is included in Forbes' annual list of America's Top Colleges this year, and is placed prominently as the first college to appear in their promotional video of the 2015 list. Marlboro places 318 among the 650 colleges included by Forbes.
"Some top colleges are quite small, with populations of just a few hundred students," says the video, with a photo of the Marlboro College community greenhouse as it appears in a Twitter post. According to Forbes' profile for the college, "The liberal arts school is intentionally small with fewer than 300 undergraduate students, resulting in a close-knit learning community."
To construct its list Forbes focuses on outcomes, including student satisfaction, career success, student debt, graduation rate, and academic success. These measures are combined in a weighted average, demonstrating that colleges like Marlboro and others on the list are worth the investment.