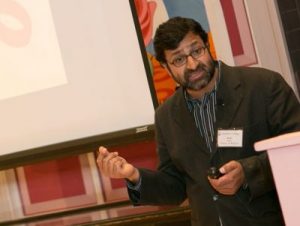 "Learning a language is learning about others and about ourselves," said Amer Latif, Marlboro religion professor. "The language and its speakers act as a mirror in which we see ourselves as we would not have been able to on our own."
Amer and Beverly Burkett, chair of the MA in Teaching English to Speakers of Other Languages program, presented the latest "Marlboro College on the Road" event in November, at New York's Grolier Club. "In Your Mirror I Know Myself: The Metaphysics of Language Learning" focused on how new languages help us change and grow, as well as parallels in Islamic contemplative tradition.
Participants were welcomed by Marlboro trustee Ted Wendell, who generously sponsored this event, as well as President Kevin Quigley. The event was rounded out by a poetry reading by Cate Marvin '93, who shared some of her recent work.