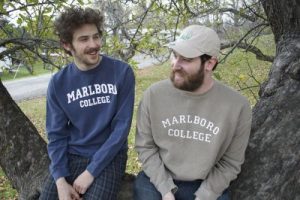 Marlboro College is pleased to announce that it is included in this year's U.S. News and World Report list of the Best National Liberal Arts Schools, where it tied with six other schools for the #136 spot. Marlboro will be included in the new "Best Colleges 2016" guidebook, available later in September, one of the premier resources used by prospective college students in the United States.
"Marlboro offers a distinctive and academically rich setting for a liberal arts education, where students are prepared for thoughtful, purposeful, and effective engagement in a rapidly changing world," said Kevin Quigley, Marlboro College president. "Our ranking by U.S. News is yet another confirmation of the value of a Marlboro education, and the big national profile of our intentionally small college."
Marlboro College returns to the U.S. News rankings this year after several years of being absent. Several institutions including Marlboro pulled out of the rankings in 2007 amid debate over methodologies that seemed to unfairly disadvantage smaller colleges. Despite a student population of between 200 and 300, making it one of the smallest colleges in the nation, Marlboro was encouraged by recent changes to the methodology. U.S. News rankings are based on several key measures of quality, including an assessment of excellence by peer colleges and high school guidance counselors. They also include weighted measures of graduation and retention rates, faculty resources, student selectivity, financial resources, graduation rate, and alumni giving.
"Marlboro College is pleased to be participating in the U.S. News rankings again this year, as we consider this a valuable resource for prospective students, especially international students," said President Quigley. "It's also important to point out many key characteristics of a college like Marlboro, not measured by rankings, such as self-directed learning, interdisciplinary approaches, close collegial relationships with faculty, and the sense of community."