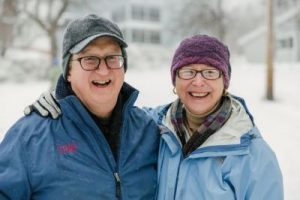 Marlboro College is please to announce that it was promised more than $1.3 million this fall, thanks to the generosity of the Christian A. Johnson Endeavor Foundation and Marlboro College Trustee Ted Wendell. These funds will support a range of initiatives, from international programs to the Bridges orientation program for new students, which are integral to the academic success of students at this small and close-knit learning community.
The Christian A. Johnson Endeavor Foundation pledged Marlboro a grant of $825,000 over the next three years, to go toward international programs, career services, admissions and marketing, and planning for the future. Marlboro also received a gift of $500,000 from Ted and Mary Wendell, longtime friends of the college, to go toward the Bridges orientation program as well as other operational costs.
"I believe in Marlboro, in the mission to preserve the intense, one-on-one teaching that has been Marlboro's practice over the years," said Ted Wendell (pictured above with President Ellen McCulloch-Lovell), who has been a trustee of the college since 1979. The Bridges program, which offers fully funded, peer-guided activities such as backpacking, spelunking, dance, and writing to welcome new students, was launched in 2008 with the Wendells' support.