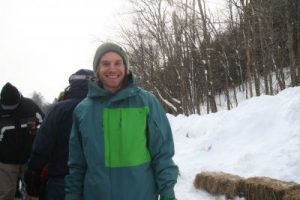 Chris Lamb, a sophomore at Marlboro College studying philosophy and environmental studies, competed at the Harris Hill ski jumping competition in Brattleboro on February 14 and 15. Chris has been ski jumping since the age of six and first competed at Harris Hill at the age of 11. He has traveled all over the world as part of the U.S. National Ski Jumping Team, living in Norway for three years. He still holds the current record for the longest jump at Harris Hill, at 102 meters, set in 2010.
Having won the competition in two previous years, Chris had the potential on Sunday to take home the International Ski Federation (FIS) winged cup trophy—a competitor can receive it after three wins. But instead Chris opted out of the FIS competition to allow space for an up-and-coming skier.Chris did compete on Saturday in the Pepsi Challenge, as well as winning a third title at the open class on Sunday before the FIS competition.
"It's like learning how to ride a bike—you don't forget," said Chris, who has been spending more time this year studying rather than the intense training of previous years.During the competition the announcers gave Chris the nickname "the Professor" because they saw him reading Immanuel Kant before the competition on Saturday. This year's competition, the 93rd Fred Harris Memorial Tournament, featured skiers from the United States, Finland, Norway, Turkey, Germany, Slovenia, and the United Kingdom.